Hundreds of Ukrainian Troops May Be Trapped in Bakhmut Tunnels
Hundreds of Ukrainian soldiers may be trapped in tunnels in an industrial zone of Bakhmut, which is under siege by Russian forces, according to Russian media reports.
The Kremlin-friendly newspapers Rossiskaya Gazyeta (RG) and Pravda were among the outlets saying that Ukrainian troops were in the underground corridors of the Vostokmash building in the Artyomovsk Metal Processing Plant (AZOM) zone. (The Russian name of the city is Artyomovsk.)
The reports have not been independently verified, and Newsweek has contacted the Ukrainian Defense Ministry by email for comment.
RG cited the Russian Telegram channel of the Military Chronicle, which said at least 300 Ukrainian military personnel were in the network of tunnels under the plant, which is in the northern part of Bakhmut, a city in the Donetsk region.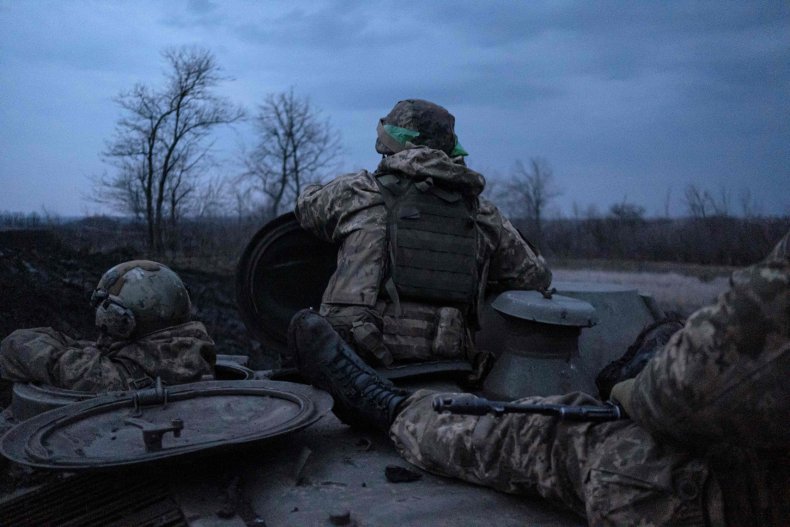 The post also said that the total number of units of personnel from Ukraine's armed forces, the National Guard and territorial defense brigades was "around 500." It noted that the Ukrainian military occupies positions at the nearby Makeevka metalwork plant, where there are also underground networks.
Russian military journalist Alexander Simonov said on Telegram that those fighting with the Wagner Group, which consists of mercenaries, had stormed AZOM.
"I and my colleagues have repeatedly written about the complexity of the assault on the site," he wrote, describing how AZOM is "a huge area with dense industrial development and a network of underground utilities that goes underground for dozens of floors."
On Sunday, the Twitter account of open-source intelligence monitor OSINTdefender said that Wagner forces had reportedly launched an assault to storm the underground complex below the AZOM site.
"The tunnels beneath the plant go down at least 320 Meters with many relating it to the Azovstal Plant in Mariupol," it tweeted.
This chimes with reports from Russian military bloggers on Sunday that Wagner fighters had started assaults on underground sections of the AZOM complex and strengthened their positions at the complex the following day.
Although Bakhmut is surrounded on three sides by Russian troops, President Volodymyr Zelensky reiterated Ukraine's commitment to holding on to the city, following a meeting with the supreme commander in chief's staff on Tuesday.
"All members of the staff expressed a common position regarding the further holding and defense of the city of Bakhmut," the president said.
Fierce fighting continues to rage in Bakhmut, where the Wagner mercenaries are spearheading Moscow's attempts to break through Ukrainian defense and advance to the central areas of the city.
Wagner is financed by Yevgeny Prigozhin, who has accused Russia's Defense Ministry of not providing his troops with enough ammunition, amid a split with Moscow's defense establishment.