Russia Planned Invasion of Belarus in 2020—Ukraine Intelligence Leak Says
Long before Russia invaded Ukraine, Russia developed a plan in 2020 to enter and occupy Belarus because it faced mass protests against President Alexander Lukashenko, according to the Ukrainian defense ministry.
The ministry's main intelligence directorate in Kyiv said on Tuesday that Moscow had outlined the justification to invade their neighbor "after the falsification" of the Belarusian presidential election in which Lukashenko claimed victory with just over 80 percent of the vote.
Ukraine released what it said were Russian military documents showing a plot for Moscow to "suppress popular protests" sparked by the now exiled opposition candidate Sviatlana Tsikhanouskaya, who said she won a first-round victory with 60 percent of the vote.
The documents released by Kyiv on Tuesday said an information campaign had been underway in Belarus to build the case for regime change, a development that Russia feared could draw it into a full-scale war with NATO.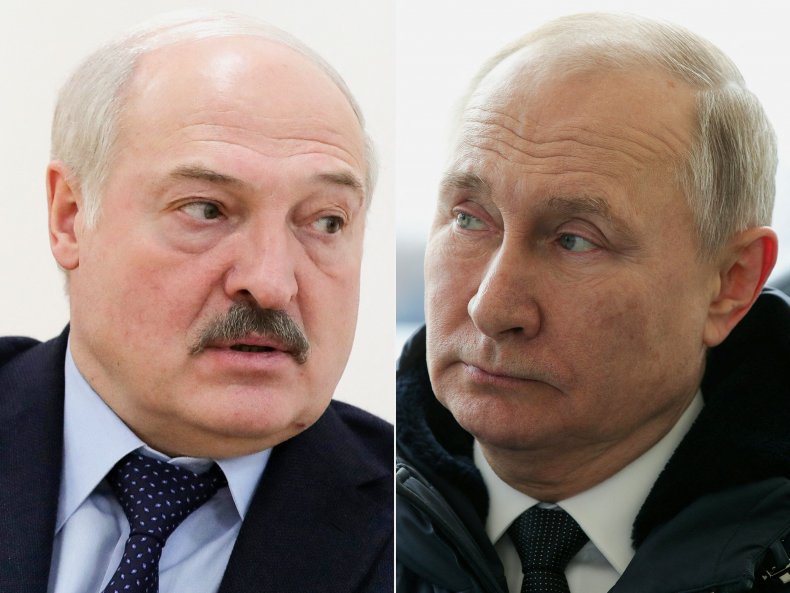 The authenticity of the documents has not been verified, and Newsweek has contacted the Kremlin and Russia's defense ministry for comment.
The documents (comprising 13 pages) are headed by the word "secret" in the top right hand corner with a title describing it as a plan to regroup "formations and military units of the 1st tank army in the area of the mission."
Russian troops would be deployed under the cover of a joint exercise with Belarusian armed forces said the document, which was signed by Major General Andrei Kolesnikov, whom Ukraine says was killed in Mariupol on March 11.
Brian Whitmore, a non-resident senior fellow at the Atlantic Council's Eurasia Center, said such a plan was "plausible," given the strained ties between Moscow and Minsk in 2020.
Facing a cut back in Russian subsidies, Lukashenko was resisting pressure from Moscow to host a Russian military base in Belarus and to pursue closer military and economic integration.
Earlier in 2020, then U.S. Secretary of State Mike Pompeo traveled to Belarus to "normalize" strained ties. Lukashenko's pivot to the west to preserve sovereignty concerned Russia's military intelligence, the GRU, and its Foreign Intelligence Service, the SVR.
But Lukashenko has since been isolated by the west after a brutal crackdown after the disputed election, making him more dependent on Vladimir Putin.
Belarus has not contributed troops to the war in Ukraine yet but it is a staging area for Russian forces, and Lukashenko has allowed Putin's forces to launch airstrikes from his territory.