Joe Biden Says Putin Was 'Dead Wrong' About Invasion As He Lands in Ukraine
President Joe Biden has issued a defiant message to Vladimir Putin on a surprise trip to Ukraine ahead of the first anniversary of the Russian leader's full-scale invasion of the country.
Biden touched down in Kyiv on Monday where he met Ukrainian President Volodymr Zelensky in a public show of support that consolidates the pair's meeting in Washington, D.C. on December 21.
"When Putin launched his invasion nearly one year ago, he thought Ukraine was weak and the West was divided," Biden tweeted. "He thought he could outlast us. But he was dead wrong."
Biden said that over the last 12 months the U.S. had built a coalition "from the Atlantic to the Pacific" to help Ukraine with military, economic and humanitarian support.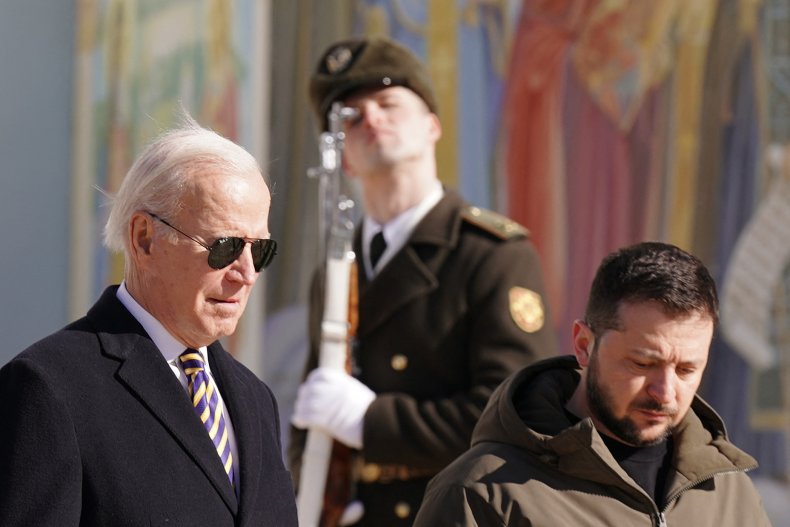 "That support will endure," Biden added.
Biden said in a statement he would meet with Zelensky and his team and announce "another delivery of critical equipment, including artillery ammunition, anti-armor systems, and air surveillance radars" to defend Ukraine against Russian aerial bombardments.
The U.S. president also promised further sanctions against "elites and companies that are trying to evade or backfill Russia's war machine."
Biden's visit to Ukraine had been kept under wraps although speculation had been building all morning about closed off streets and increased security in the Ukrainian capital.
The New York Times reported that Biden had departed Washington without notice after he and First Lady Jill Biden had a rare dinner out at a restaurant on Saturday night.
His public schedule had him arriving in Warsaw on Tuesday and officials had denied he was planning to announce a visit to Ukraine. The White House's public schedule for Monday showed that Biden was still in Washington, rather than on the other side of the world.
The Times reported that he had made the trip to Kyiv via train from the Polish border.
Addressing reporters with Biden, Zelensky described the U.S. president's trip as "the most important visit of the whole history of U.S.-Ukraine relations."
He praised the U.S. provision of Abrams tanks and said that he had spoken with Biden about long-range weapons.
"I know there will be a very significant package of support to Ukraine," said Zelensky, adding that it sent a signal that "Russia's aggression has no chance."
Biden's visit to Europe is also scheduled to include a trip to Poland, where he will meet with Polish President Andrzej Duda and talk to the leaders of the Bucharest Nine (B9), a group of Eastern European NATO Allies.
Update 02/20/23, 6:45 a.m. ET: This article has been updated with further information, including comments by Ukrainian President Volodymr Zelensky.