Russia and China Cooperating in 'All Areas,' Envoy Says Amid Weapons Fears
Russia's ambassador to China said attempts to drive a wedge between the countries will fail amid U.S. concerns that Beijing might supply arms to Moscow.
Igor Morgulov told the Chinese government newspaper the Global Times that "anyone who has bad intentions and may try to break our friendship will not succeed."
Citing increased trade between the countries, he told the publication: "We are good neighbors.
"As the Chinese proverb says: 'A near neighbor is better than a distant relative.'"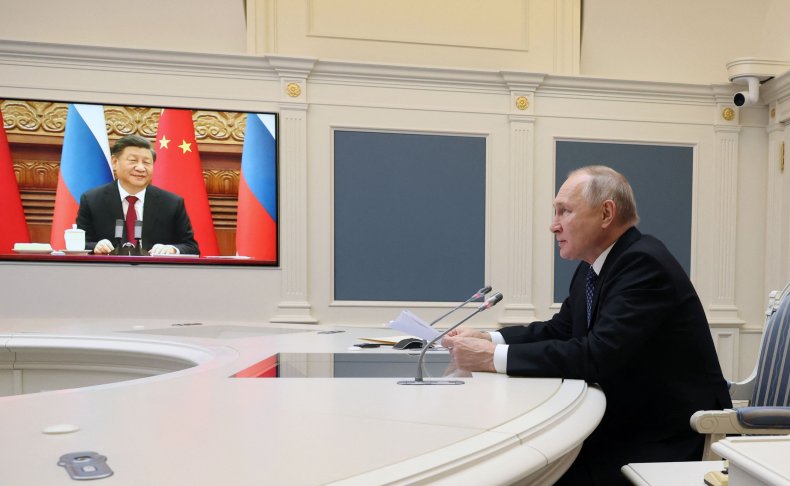 He said that Moscow and Beijing "respect each other's interests and carry out mutually beneficial and close cooperation in all areas," Russian state news agency Tass reported.
The interview followed comments by CIA Director William Burns that the U.S. was "confident" Beijing is considering supplying Moscow with lethal equipment to support its invasion of Ukraine.
However, he told CBS on Sunday that he did not believe a final decision has been made and that there was no evidence of "actual shipments of lethal equipment."
White House national security adviser Jake Sullivan told the network that such a move would "come at real costs to China."
Beijing has angrily rejected claims by U.S. Secretary of State Antony Blinken that China is considering supplying weapons and ammunition to Russia.
Last week Der Spiegel reported that a Chinese drone-maker was in talks with Moscow to mass-produce 100 "kamikaze drones" for Russia although Chinese Foreign Ministry spokesperson Wang Wenbin said Beijing "does not provide any arms sales to conflict areas or warring parties."
The accusations come amid speculation over what role China might play in the war in Ukraine about which Beijing remains officially neutral.
On Friday, China published a 12-point peace proposal that called for a ceasefire but would leave Russian troops in occupied Ukrainian territory. It did not name Russia as the aggressor and called for an end to sanctions.
On Monday, Kremlin spokesperson Dmitry Peskov said that Russia is paying "a great deal of attention" to China's proposals.
However, the plan China presented amounted to a position paper, not a peace plan or proposal with concrete steps to end the war, said Steve Tsang, director of the China Institute at London's School of Oriental and Africa Studies (SOAS).
"The language used suggests that the Chinese government largely supports Russia's position," he told Newsweek, "It is therefore in general terms acceptable to Moscow, though the Chinese position that no nuclear threat should be made will not go down particularly well in Moscow.
"But this is probably academic as Russia probably was only making such a threat without having committed to use nuclear weapons."