Russians 'No Longer Able To Resist HIMARS': Front-Line Ukrainian Mayor
The mayor of a city in Ukraine has said Ukrainian soldiers' efforts are causing difficulties for Russian forces ahead of a future counteroffensive.
Ivan Fedorov, the mayor of Melitopol, took to Telegram on Monday morning to say that more than 100 Russian soldiers had been killed in recent attacks using "high-precision HIMARS [High Mobility Artillery Rocket Systems]."
He shared multiple videos alongside his message that appeared to show the missiles being fired. This comes as the war between Ukraine and Russia nears the 6-month mark following the decision by Russian President Vladimir Putin to invade the country.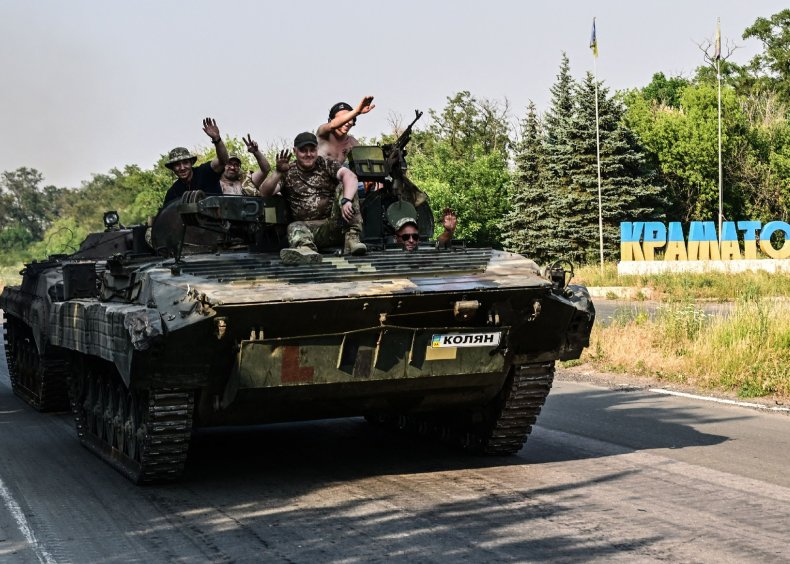 "Today, high-precision HIMARS missiles fired at the points of temporary deployment of the occupying forces at industrial sites in various districts of the city of Melitopol," he said in the Telegram post (translated by Google).
Speaking to Newsweek, Fedorov said that one of the Russian bases targeted was an old military airport on the edge of the city, while the other was an old plant being used as a military warehouse.
He added that Ukrainian forces were able to find out about the location of these bases through partisans in the city.
In his Telegram message, he continued: "According to preliminary estimates, a significant amount of military equipment was destroyed. More than 100 Russian soldiers, who were in temporary barracks that night, received tickets to the Kobzon concert, and their parents are already choosing the model and color of the Lada car."
The phrase buying "tickets to the Kobzon concert" has been used by Ukrainian soldiers and officials as a euphemism for Russians killed in the war in reference to Iosif Kobzon, a singer born in Ukraine but popular in Russia. He was dubbed the "Soviet Sinatra" and died in 2018, viewed by some Ukrainians as a traitor.
The mention of the car refers to an interview in which grieving parents said they had bought a Lada with compensation money for the death of their son, killed in Ukraine, the online publication Ukrainian Pravda reported.
Newsweek contacted the Ukrainian Ministry of Defense and the Russian Ministry of Foreign Affairs. Moscow has said on several occasions that it has destroyed HIMARS systems, but its claims have been unverified and have been dismissed by some Ukrainian and Western officials.
Fedorov added that this attack would prove vital for future counterattacks against Russian forces.
"Last week, the occupiers redeployed a significant part of air defense from Melitopol to Kherson," he added.
"Tonight is the most effective and shows that the existing enemy air defense units are no longer able to resist HIMARS.
"The weakening of the air defense system creates the necessary prerequisites for a successful counteroffensive in the direction of Melitopol."
He also added how integral HIMARS are proving in the fight against Russian forces.
"HIMARS are helping us very much. Since HIMARS started working in Ukraine, in Melitopol, we've destroyed many Russian positions," he told Newsweek.
Speaking on Russian morale, he added:" They don't want to make war. They don't want to stay in Melitopol.
"They want to come back to Russia but their generals say to them, 'stay, everything will be good.' But it's impossible for them to be good in Melitopol."
As the conflict edges closer to the 6-month mark there appears to be no clear end in sight.
However, one European politician, Nico Lange, a German lawmaker and chief of staff for the country's Federal Minister of Defense, has said Russia now faces "tremendous " difficulties.
Speaking to German public broadcaster Deutsche Welle (DW) over the weekend, he said the significant influx of military aid to Ukraine is changing the dynamic of the Russian invasion.
"The crucial aspect of the past few days is that Russia is now being forced to react to the Ukrainians' statements and actions," he said.
"Until now, it was the other way around; The Ukrainians were forced to react to everything Russia did.
Lange continued, saying that Russia has "moved significant forces to the south, toward both Kherson and Zaporizhzhia," two regions in Southern Ukraine that have mostly fallen under Russian occupation. They have also recently become the focus of significant counteroffensives by Ukrainian forces aiming to retake them.
"A Ukrainian attack will not look like the Russians': this rolling barrage that destroys everything in its path," Lange said. "Rather, it will also rely on partisans, on uprisings in the occupied cities, on mobile operations behind enemy lines."
He added: "The Russians are having great problems controlling these areas. There is a lot of partisan activity in the occupied part of Zaporizhzhia oblast.
"Russian patrols are being killed at night. In Melitopol, too, as in Kherson, there are posters directed against the Russian occupiers, there are leafleting campaigns. Something new is constantly being put up."
Russia is now unable to "escalate indefinitely" in Ukraine, Lange said, adding that the Russians are facing "tremendous" difficulty in continuing the conflict.
Updated on 08/08/22 at 07:23 a.m. ET with additional information