Russia's Drone Crisis as Ukrainian Forces Shoot Down UAVs
Russia faces a shortage of Unmanned Aerial Vehicles (UAVs) as Western sanctions make it hard for Moscow to replace drones shot down during the invasion of Ukraine, according to British defense officials.
The U.K. Ministry of Defense (MOD) assessment comes amid reports that measures that have restricted Russia's access to components were affecting its war effort as Moscow turns to Iran to supply drones, and reportedly North Korea, for ammunition and weapons.
Last week, the Ukrainian air force said it had shot down a Russian "Kartograf" reconnaissance drone in the Mykolaiv region and in its latest assessment of Russian losses, the Ukrainian armed forces said on Tuesday that Moscow had lost 867 UAVs.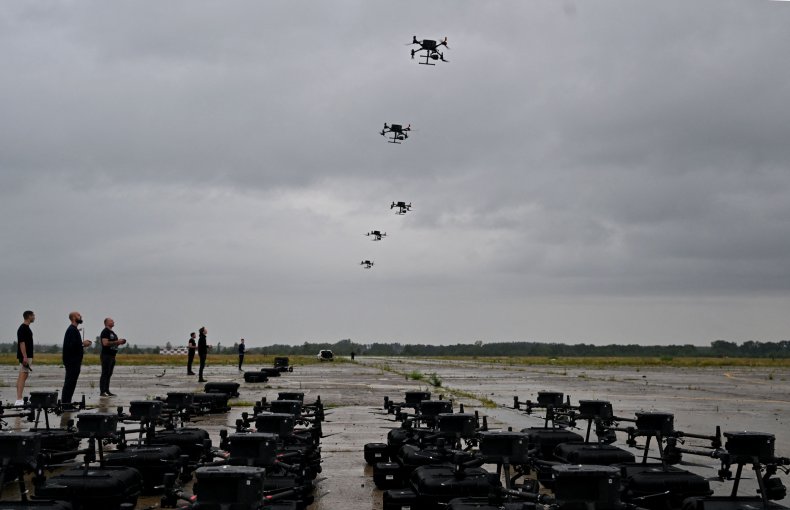 In a daily update on Tuesday, British defense officials cited the reported destruction by Ukraine of three Russian Orlan-10 tactical UAVs on August 21 as an example of the setbacks Moscow's forces are facing.
This was significant given that "Russian doctrine has given an increasingly prominent role for UAVs, particularly to spot targets for its artillery to strike."
The assessment noted Ukrainian media reports of only 27 sorties by Russian drones on the west bank of the Dnieper River on September 5—almost half of the average of 50 a day that were used by Moscow in August.
"UAVs can be vulnerable to both kinetic effects—where they are directly shot down—and to electronic jamming," the MOD said, adding, "In the face of combat losses, it is likely that Russia is struggling to maintain stocks of UAVs, exacerbated by component shortages resulting from international sanctions."
"The limited availability of reconnaissance UAVs is likely degrading commanders' tactical situational awareness and increasingly hampering Russian operations," it said.
Sanctions imposed on Russia since the start of the war have hindered its ability to buy weaponry, in particular the electronics that arms require.
The New York Times reported that Moscow had expected that China could make up the shortfall of military hardware and components but that Beijing had largely respected export controls out of fear of losing access to U.S. technology needed to make semiconductors.
Both Russia and Ukraine have purchased from Chinese manufacturer DJI civilian drones, which have been adapted for military use. Russia has used Orion drones, which have both reconnaissance as well as strike capabilities, but these are large, relatively easy to spot and require Western components.
Marina Miron, a research fellow from the Defense Studies Department, at King's College London (KCL) said that the other UAVs used by Russia, the reconnaissance Orlan-10, which have been shot down in great numbers by Ukraine, are also based on Western technology which would be difficult to reproduce.
"Nonetheless, the overall number of Orlan-10 drones still available to Russia is unknown, since these are still being used on the battlefield," she told Newsweek.
"It seems like Russia is definitely lacking capabilities on the drone front with the sanctions making it difficult to get parts to produce them," she said
"Adapting civilian drones produced by Russian manufacturers is cheaper, but these require parts, such as batteries, which Russia could potentially purchase in China. Yet, China is not very keen on supporting Russia and Ukraine in this aspect."
"Not only drone production is affected by the inability to acquire microchips. Precision-guided munitions are another commodity that requires such components for targeting."
The Times said that U.S. intelligence found Russia was resorting to buying artillery shells and rockets from North Korea. Meanwhile, the first tranche of Iranian drones intended for use in Ukraine has reportedly arrived in Russia.
Mohajer-6s and the Shahed-series of UAVs reportedly are part of the initial shipment to be used for various operations including conducting surveillance, strikes and electronic warfare missions, The Drive reported.
However, U.S. officials said that Russia has faced technical problems and "numerous problems" with Iranian-made drones acquired from Tehran, the Associated Press reported.
Moscow rarely comments on its losses and Newsweek has contacted the Russian Defense Ministry and military analysts for comment.
Update 09/07/22, 7:30 a.m. ET: This article has been updated with comment from researcher Marina Miron.