Putin No Longer Leading Ukraine Effort, Girkin Says: 'A Complete Failure'
The Russian military blogger Igor Girkin has issued his latest broadside against how Russian President Vladimir Putin is conducting his invasion of Ukraine.
Also known as Igor Strelkov, Girkin is a former Russian intelligence officer who played a major role in Russia's annexation of Crimea in 2014 and the conflict in Ukraine's eastern Donbas region.
He has given perceptive but unflattering assessments of Russia's military failures in Ukraine and his views on the military shortcomings of Putin and his commanders.
In a video posted on his Telegram social media channel on Monday, Girkin told an audience in St. Petersburg how he had predicted in May 2022 that Russia had already "failed" in what it calls a "special military operation" because there was no mobilization under way.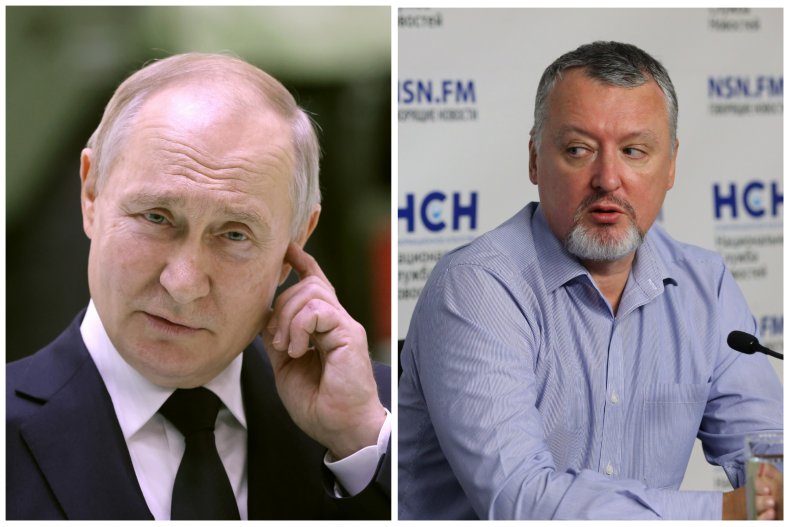 Over the course of the war, he said that Russian manufacturing "has fallen apart," citing the lack of access to foreign supplies. He then took aim at the Russian "generals and bureaucrats" running Moscow's war effort. With these people in charge, in his view, "it's impossible to conduct a real mobilization, real preparation or have a real war."
Although Putin announced a draft in September, a "brake" has been put on the call up, reiterating a view by many Russian military bloggers who say the country should be put on a full war footing. Girkin believes that Russian armed forces cannot manage with the personnel they have.
"That's why our president has completely withdrawn himself from leading the special military operation and delegated it to the minister of defense (Sergei Shoigu) who has prepared his army badly," said Girkin, "if you could call it preparation."
He described the Russian military effort as "a complete failure," in referring to how Putin had appointed Chief of the Russian General Staff Valery Gerasimov, to take charge of the Kremlin's campaign in Ukraine.
"Everything is going on the same path as it was in the summer," said Girkin, a time when Russian forces suffered setbacks in the teeth of a successful Ukrainian offensive, "only instead of Peski, we have Bakhmut."
In August, Russia's military said that the town of Peski in the Donetsk Oblast was under Moscow's control. The battle for the city of Bakhmut has been ongoing for months.
A clip of Girkin's comments was tweeted by Ukrainian internal affairs adviser Anton Gerashchenko, who wrote, "terrorist Girkin-Strelkov criticizes Russian leadership and Russian army for failing to prepare for war and predicts Russia is destined to lose the war."
As one of the major commanders of the war in the Donbas region of Ukraine that started in 2014, Kyiv has accused Girkin of kidnapping and murder. In November 2022, Girkin was convicted in absentia—along with another Russian and a Ukrainian—of murdering all 298 people onboard Malaysia Airlines flight MH17, which was shot down over separatist-held territory in eastern Ukraine in 2014.
Despite strict laws brought into effect in Russia over the last year effectively prohibiting criticism of the Kremlin's military campaign, Girkin has able to get away with taking swipes at Putin and the Russian defense ministry.
This is because he "is not really important in his own right" although he does reflect the views of a sizeable contingent within the military and security apparatus, Russia expert and director of the consultancy Mayak Intelligence, Mark Galeotti said in his podcast In Moscow's Shadows on Sunday.
"The Kremlin has decided it is probably best to use him as a safety valve, rather than turn him into a martyr and have no real idea of quite what these increasingly… patriotic but anti-Putin forces are really thinking," Galeotti said.
Newsweek has contacted the Russian defense ministry for comment.