TV Pundit Indicates How Russia Will Reframe Goals To Claim Ukraine Victory
Political scientist Sergey Mikheyev claimed Russia may attempt to shift the perception around what its intentions were for invading Ukraine.
While speaking on Russian state TV, Mikheyev said that the issue with Ukraine should be dealt with now.
However, he also said that the outcome of the war may dictate what Russia says its goals were for the conflict.
The video has also gone viral on Twitter and been viewed over 150,000 times.
The clip shows Mikheyev speaking in Russian with an English translation running along the bottom of the page.
Newsweek was able to independently verify that the words accompanying the video match what is being said. However, it is unclear when the video was recorded.
The Daily Beast's Julia Davis, who posted the video, said that 'Sergey Mikheyev summarized what seems to be the Kremlin's strategy in Ukraine.
"Grab what Russia can get and later claim it was their goal anyhow. At the max, they want all of Ukraine and the final solution of the 'Ukrainian question.'"
"Success should remain on our side, we shouldn't allow anyone to laugh at our success," Mikheyev said.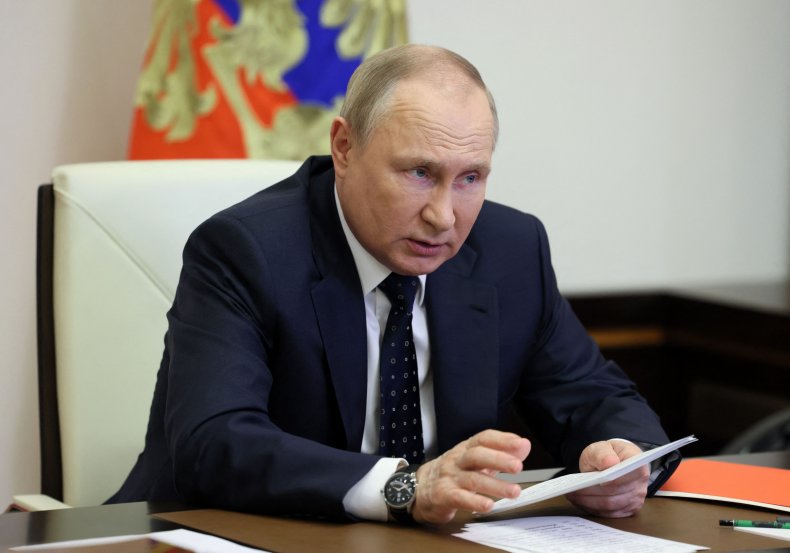 He went on to say that he believed that Ukraine was Russian land and belonged to Moscow.
He also insisted the "Ukraine problem" should be dealt with now rather than by future generations.
"Regarding our goals, I am absolutely convinced that this is our land, it's definitely our land," he continued.
"It's not about Ukraine and the state in which it may exist, generally speaking, it is our historical land.
"It ended up in this state solely because of mistakes, misunderstandings or treachery."
Mikheyev also said that he believes that the outcome of the war will impact what Russia will say were its initial goals.
"Unfortunately, the war will determine our plans. Our goals will be based on what's achievable," Mikheyev said.
"Whatever we can obtain will later be named our goals. No joy in that, but that's what I believe will happen.
"We should strive not to leave the Ukrainian question for the next generation to handle.
"It's risky to leave this question to future generations. We don't know what the next generations will be like. We should be working on that."
After three months of war, Russia has suffered as many losses as the Soviet army did over the nine years of fighting in Afghanistan, according to a British Government report.
The latest update from Britain's Defence Intelligence agency claims that "a combination of poor low-level tactics, limited air cover, a lack of flexibility, and a command approach which is prepared to reinforce failure and repeat mistakes" has led to Russia's high casualty rate in Ukraine.
According to British intelligence, Russia's death toll continues to rise as the offensive in Donbas is reinforced.
The latest report from the General Staff of Ukraine's Armed Forces says the Russian military has sustained 29,200 casualties in Ukraine since the beginning of the war on February 24.
This number is probably inflated but estimates from Western intelligence report a Russian death toll that's still much higher than the one the Kremlin is officially recognizing.
In the latest official Russian report, the country's death toll in Ukraine was just over 1,500.
Newsweek has contacted Russia's Ministry for Foreign Affairs for comment.