Ukraine Helicopters Make Daring Low-Level Attack in Astonishing Video
A video purportedly showing a Ukrainian armed forces helicopter in combat has gone viral. The 30-second clip was shared by OSINTtechnical, a Twitter account that posts footage focusing on operations by Kyiv's forces.
Filmed from the cockpit, the video briefly shows from the pilot's point of view the trajectory of the aircraft, a Mil Mi-8 according to OSINTtechnical, which is a medium twin-turbine helicopter first introduced into the Soviet Air Force in the 1960s.
To the soundtrack of the song "Cameo" by the artist King Mello, the video shows the pilot flying behind another helicopter over an open field in an undisclosed location. As the cockpit tilts up, missiles are fired and the helicopter swoops down and then turns left as smoke trails from explosions can be seen on the ground.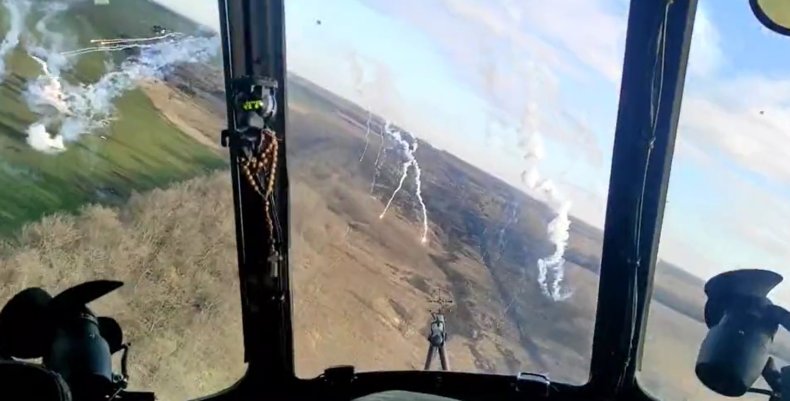 "A pair of Ukrainian Mi-8s make a low-level attack run with unguided S-8 rockets," it wrote next to the video. S-8s are air-launched missiles designed in the Soviet era.
In a follow-up tweet, the account added: "The Mi-8 videos will continue as long as Ukrainian Army aviation assets are flying, and they do not intend to stop anytime soon."
As of Thursday morning, the clip tweeted to OSINTtechnical's 684,000 followers had been viewed more than 340,000 times and sparked a lively Twitter thread.
The comments ranged from praising the dramatic footage to questioning what the target was. "Have they actually ever scored a confirmed hit with this?" wrote one user.
On Tuesday, OSINTtechnical tweeted other footage of Mi-8s which it said were heading to the front and armed with B8-V20A rocket pods. As of Thursday, that video had received more than 380,000 views. Newsweek has contacted Ukraine's Defense Ministry and OSINTtechnical for comment.
Early Thursday morning, Russia launched a massive missile and drone attack across Ukraine early targeting critical energy infrastructure sites and killing at least five people, according to officials.
In what appeared to be the largest Russian missile strikes in months, the latest attacks took place in the Kyiv, Lviv, Mykolaiv, Odesa, Zhytomyr, Kirovohrad, Dnipro and Kharkiv regions. The mayor of Kyiv, Vitali Klitschko, said that explosions in the Ukrainian capital had left 15 percent of households without power and 40 percent without heating.
Ukraine's nuclear energy operator said the attacks had also cut off the electricity supply to the Zaporizhzhia nuclear power plant, which is controlled by Russian forces.
In a post on Telegram, Ukraine's military said Russia had fired 81 missiles across the country overnight and that air defenses had successfully shot down 34 cruise missiles and four out of eight Iranian-made Shahed kamikaze drones.