Russian Soldiers' Parents Head to Ukraine to Rescue Sons
Russian soldiers refusing to fight on the frontlines of Ukraine are being rounded up and detained, prompting their family members to try to go to their rescue, it has been reported.
Troops, who thought they could opt to leave Russian forces after a three-month contract fighting in the Ukraine war, have instead reportedly been sent to a makeshift detention center in Bryanka, in the Luhansk region which Moscow says it now controls.
Relatives told The Insider, an independent Russian-language investigative website, that there is a large number of refuseniks which Moscow's military command is not letting return home, fearing others will follow their example.
The father of one Russian soldier told the outlet that soldiers who wanted to quit had been bullied back into rejoining the frontlines or else were kept in cramped spaces where they face tough conditions, forced labor and sometimes torture.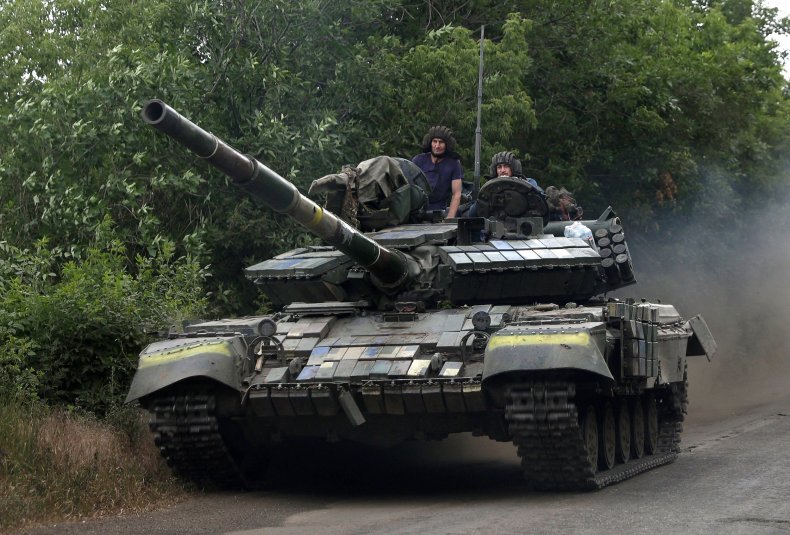 "It is better to give your soul to God than to go back there," the unnamed father told the outlet. "They no longer want to be up to their ears in the blood of their friends and comrades."
Relatives and parents of the troops have traveled to an administration building in the self-proclaimed Luhansk People's Republic (LPR) where the soldiers have been detained to try to get answers from the authorities, The Insider reported.
So far, attempts have failed to get into the building, which is locked, while the authorities have refused to give information about the troops.
"We need to do something, we need to get the children out of there and stop the lawlessness," one mother named by The Insider as Maria told the publication, "If we are the first, then others will follow. I don't know exactly how many of us there are, but I know there are many."
The Nestka publication reported last week that a center in the Luhansk region was where hundreds of servicemen who refused to fight had been taken, with many being held in basements and garages.
The existence of the torture camps and detention centres in Bryanka has not been verified, although The Insider has reported a number of anecdotal accounts from Russian defectors about the ill treatment meted out to soldiers who refuse to fight.
A growing number of Russian families are demanding answers from the Kremlin about missing soldiers. A woman whose son was killed in Ukraine told the BBC earlier this month that many mothers blame the Kremlin for the deaths of their loved ones and would rise up against President Vladimir Putin.
The official death toll of Russian servicemen is 1,351, although estimates from Ukraine and the West put the number much higher. Newsweek has contacted Russia's Defense Ministry for comment.