Ukrainian Makes Tearful Plea for NATO to Intervene Against Russia in Viral Video
The head of a Ukrainian think tank has made a moving appeal for NATO to enforce a no-fly zone to stop Russia's bombardment of her country in a direct plea to British Prime Minister Boris Johnson.
Daria Kaleniuk told Johnson at a press conference during his visit to Warsaw that "Ukrainian people are desperately asking for the West to protect our sky."
After the prime minister had praised the resolve of Ukrainians in fighting back Russian troops, she said "you are talking about the stoicism of Ukrainian people."
"Ukrainian women and Ukrainian children are in deep fear because of bombs and missiles which are coming from the sky."
She asked "What is the alternative?" to a no-fly zone, describing how air defense capabilities in NATO countries such as Poland and Romania "could shield" the west of Ukraine, so that women and children "could come to the border" through which many have fled.
"I am so glad that Samantha Power is coming here to the border from the Polish side, let her come to the border from the Ukrainian side," she said, in the hope that the administrator of the U.S. Agency for International Development would be able to witness the unfolding situation.
"You're coming to Poland, you're not coming to Kyiv… because you're afraid," Kaleniuk, the executive director of the Kyiv-based Anti-Corruption Action Center, told Johnson. She said NATO was not willing to defend Ukraine because it was "afraid of World War III." But she added: "It's already started."
Visibly upset, she said that it was "Ukrainian children who are there taking the hit."
In response, Johnson set out NATO's position that it could not enforce a no-fly zone because it would involve "direct combat with Russia," adding, "that's not something we can do."
"I think the consequences of that will be truly very, very difficult to control," Johnson said, although he admitted he was "acutely conscious that there is not enough that we can do, as the U.K. government, to help in the way that you want."
The clip of Kaleniuk has gone viral and within two hours of the press conference, had been viewed more than 1.2 million times.
It comes as Russia's defense ministry issued a warning to Kyiv residents that it was preparing to launch strikes against "technological centers of the Ukrainian Security Service and the 72nd main PsyOps center in Kyiv."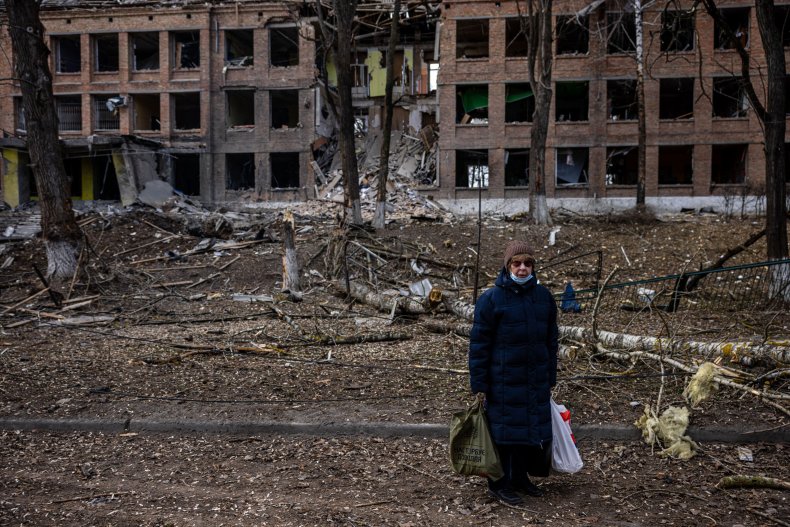 Update 03/01/22, 10.30 a.m. ET: This article has been updated with new information.