Missile Attack on Kharkiv as Video Shows Russia Firing Rockets at Civilians
Kyiv has accused Russian forces of targeting civilians after it said missile strikes had targeted the center of Ukraine's second city Kharkiv.
Ukraine's foreign affairs minister Dmitry Kulebo tweeted a video, which can be viewed here, of an explosion by the city's regional state administration building in Freedom Square that created a huge fireball and appeared to engulf several cars driving by.
"Barbaric Russian missile strikes on the central Freedom Square and residential districts of Kharkiv," he wrote on Tuesday morning.
"Putin is unable to break Ukraine down. He commits more war crimes out of fury, murders innocent civilians," he added.
"The world can and must do more. INCREASE PRESSURE, ISOLATE RUSSIA FULLY!"
Other social media posts sharing the video also described it as a missile attack.
Security analyst Maria Avdeeva tweeted the clip, writing "grad shelling at residential areas. Putin now in total war with Ukraine." Images of the aftermath show a large crater in the middle of the city whose mayor has said there were dead and wounded.
Ukraine's emergency ministry tweeted the aftermath of the explosion, saying that six people were injured, "including 1 child," adding that "the death toll is being determined."
The blast hit at about 8 a.m. two hours after the city's curfew was lifted, according to Anton Gerashchenko, an advisor to Ukraine's interior minister, according to the New York Times.
Earlier, Kharkiv's regional head, Oleh Synehubov, had alleged that Russian forces had been targeting residential areas with Grad missiles, which use a truck mounted artillery system which can fire rockets simultaneously.
Synehubov wrote on the social media outlet Telegram Russian troops had fired on the "square in front of the regional state administration office" and that officials are "estimating casualties among the civilian population", the BBC reported.
On Monday, at least nine people died, including a family of five after Russian forces shelled a residential building in the city.
Before Tuesday's strike, Ukrainian President Volodymyr Zelensky said there were eyewitness accounts of civilians being deliberately targeted in Kharkiv, using jet artillery.
"It was clearly a war crime," he said, "the Russians knew where they were shooting," referring to Monday's attack.
The Geneva Convention, which Russia has ratified, states the deliberate targeting of civilians in an armed conflict is a war crime.
The International Criminal Court's chief prosecutor, Karim Khan, has opened an investigation into Russia's invasion and claims that war crimes or crimes against humanity had been committed in Ukraine.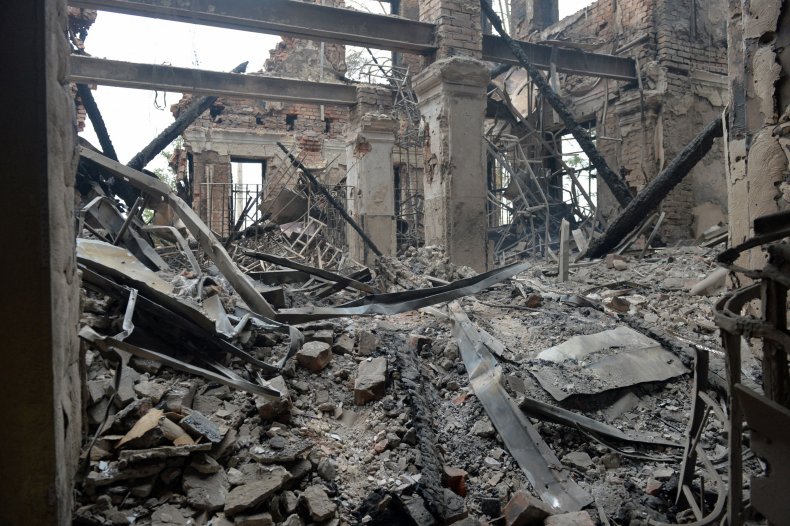 Update 03/01/22, 05:30 a.m. ET: This article has been updated with new information.