Russian People Surprised to Find Out Ukraine War Not Going Well on State TV
Russian-speaking social media users have been left surprised at the damning critique of Vladimir Putin's war in Ukraine offered by a military analyst on a Kremlin propaganda TV channel.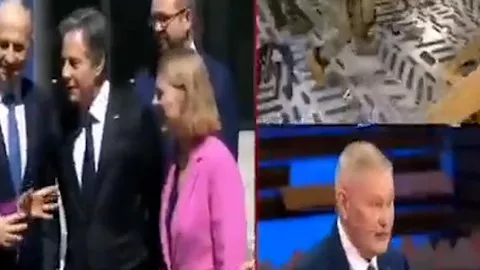 The candor of Mikhail Khodaryonok was a talking point for many on social media as he described a military situation on the ground faced by Russian troops far removed from the patriotic take usually given on the state-run channel Russia-1.
Khodaryonok, a former air defense commander turned military commentator, who in 2020 was awarded a "Merit to the Fatherland" medal, said that "virtually the entire world is against us" and that Russian troops would face a tough battle against highly motivated Ukrainian troops.
He said don't believe the "false" reports that Ukrainian forces were facing a morale crisis and that Kyiv would be able to mobilize one million people who will benefit from western arms, meaning the situation for Russian troops "will frankly get worse."
He also batted aside interruptions from 60 Minutes host Olga Skabeyeva—dubbed the Kremlin's "propagandist-in-chief," for her suggestion that a non-professional army would pose less of a danger.
Khodaryonok said that it did not matter if Ukraine called upon conscripts, what mattered was their willingness to "fight to the last man" as he also took aim at Moscow's nuclear "saber-rattling" in response to Finland's NATO aspirations.
Russian scientist and political analyst, Andrey Piontkovsky, tweeted: "Khodaryonok has delivered the first capitulation from the Russian armed forces."
The video clip of the exchange between Kodaryonov and Skabeyeva was widely shared on the Russian social media website VKontakte, and as of Tuesday morning, had been viewed more than 3.8 million times.
"An extraordinary exchange of views in the next Russian state talk show about Ukraine," commented an anti-war user History of the War, who added, "the only threat to Russia is the paranoid ones like Olga Skabeeva."
"Colonel Mikhail Khodarenok is probably one of the most sane experts in all this zombie clique," Olga Lebedeva commented. "I'm afraid he won't be called again."
Natasha Timofeeva wrote that "a political force capable of changing the situation in Russia may develop around this manifesto." Another user wrote that "common sense" had been broadcast on state television.
"An objective view of what is happening has been shown on air on state television," wrote another user, which was "a rarity in modern times."
Meanwhile, many reacted on Twitter as to the significance of such a negative assessment of Russia's chances on a Kremlin-backed channel that has been trumpeting successes in Ukraine and making threats against the west.
Writer Noah Smith tweeted, "Well, that took guts. Good to see reality seeping in." His message was retweeted by Kamil Galeev, a fellow at the Wilson Center.
"Out of all (the) people in the room he is the most sober one. Why? Well, maybe because he's the only one with substantial military experience," Galeev wrote. "Most Russian pundits judged the military capacity of the Russian army based on official propaganda. Khodaryonok—on his lived experience. No wonder he is way more pessimistic about the war."
This is not the first time that Khodaryonok has been critical of the war. Three weeks before the invasion, he wrote an article in Nezavisimaya Gazeta dismissing Russia's chances of being able to defeat Ukrainian units quickly.
"An armed conflict with Ukraine is currently fundamentally not in Russia's national interests," he wrote.
Meanwhile, earlier this month, he told Russia-1 that general mobilization of the Russian population would not accomplish much because Russia had outdated weapons that could not compete with NATO-supplied arms.
Russia media watcher Julia Davis tweeted after his latest appearance: "Many are wondering: why is Khodaryonok allowed to keep talking on Russian TV where any dissent is discouraged? Because his words don't harm the regime. To the contrary, they help temper the expectations, while other pundits promise fast, easy victories."
{{#isDisplay}} {{/isDisplay}}