Vladimir Putin Says Russia Ready To Negotiate With Ukraine
Russian President Vladimir Putin has said his country is "ready to negotiate" with Ukraine, where he has ordered a military assault.
Putin made the comments during a phone conversation with his Chinese counterpart Xi Jinping on Friday, state agency RIA reported.
"Russia is ready to negotiate with Ukraine at a high level," Putin said according to the agency, which cited the Chinese foreign ministry.
Ukraine's president has called for talks with Vladimir Putin but there is no indication that he will agree to talks on this basis.
Chinese broadcaster CCTV reported that Xi told Putin that China supports Russia in efforts to resolve the Ukraine crisis via dialogue.
Beijing has repeatedly rejected calling Moscow's move an invasion but foreign ministry spokesperson Wang Wenbin said "all countries' sovereignty and territorial integrity should be respected."
There is speculation that Beijing could see the Ukraine invasion as a blueprint for actions towards Taiwan, a democratically governed island Beijing says is part of China and has vowed to reclaim by force. Beijing will also be wary of a Western push to arm Ukraine, which it would not want to see replicated with Taipei.
Meanwhile, during a TV address, Ukrainian President Volodymyr Zelenskyy praised the bravery of Ukrainian troops before he switched from Ukrainian to Russian and made a direct appeal to Putin to negotiate.
"Fighting is ongoing across all of Ukraine's territory. Let's sit down at the negotiating table to stop the killing of people," he said.
Kremlin spokesperson Dmitry Peskov said that Putin was ready to send a delegation to Minsk to negotiate with the Ukrainian side, RIA reported.
However, he said these talks would have to be about Ukraine declaring a "neutral status," which would include "demilitarization," and there is no indication that Zelenskyy would be willing to negotiate on those terms.
Earlier on Friday, Russian Foreign Minister Sergei Lavrov repeated Putin's line that Moscow does not intend to occupy Ukraine—but rather "demilitarize" it.
Lavrov told reporters that Ukrainian people had the chance to "choose their own future," the BBC reported.
Despite continued strikes by Russian forces and reports of numerous civilian casualties, Lavrov insisted that "nobody is going to attack the people of Ukraine," telling CNN that there will be "no strikes on civilian infrastructure."
He said instead of an attempt to "somehow degrade the Ukrainian Armed Forces, we are talking about preventing Neo-Nazis and those promoting genocide from ruling this country."
This repeats the Kremlin line, dismissed by Western countries as a false narrative used by Putin, that there are Nazi elements existing within Ukraine which justify the attack on his neighbor.
Russian military forces have been seen in Kyiv on Friday as fears grow that Russia could soon seize the Ukrainian capital.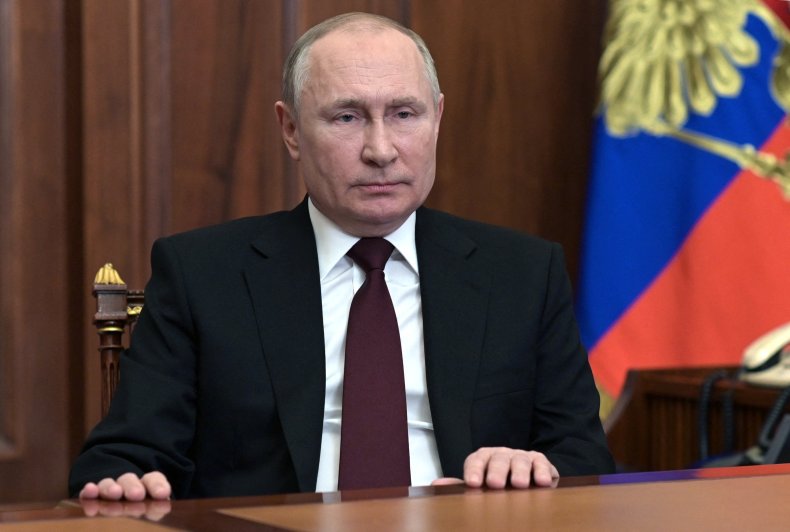 Update 02/25/22 9:18 a.m. ET: This article was updated to add more information.