Confusion Over Putin Live TV Address as Russia Denies Imminent Announcement
Vladimir Putin's spokesman has rejected claims that the Russian president would make a major announcement about his invasion of Ukraine, but not before the rumors had shaken markets.
The news outlet Readovka reported on Wednesday that Putin would that day address the nation for the second time in two weeks to announce a "change in the status of the special operation."
The last major national address came on September 21, when Putin announced the partial mobilization of his country to call up reservists to join his invasion in the face of huge losses of troops and equipment. Putin also gave a combative speech at a rally on September 30 marking Russia's annexation of four partly occupied Ukrainian provinces.
However, when asked by reporters, Kremlin spokesman Dmitry Peskov dismissed the rumors of an impending address as "fake." RIA Novosti reported him saying that Putin "has no plans to address the people of Russia."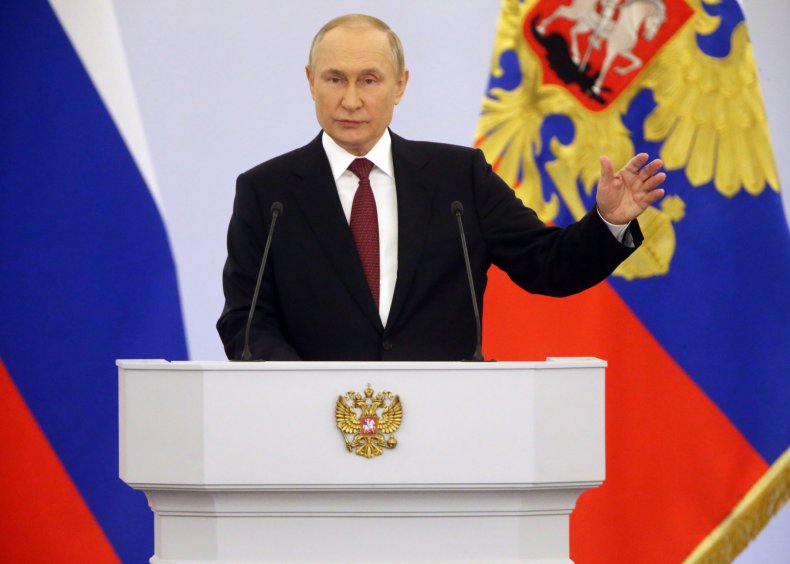 Peskov added that it was up to Russia's commander–in-chief to determine the status of the invasion. "To date, no such decisions have been made, we are (still) talking about an ongoing special military operation," he said.
Bracing itself for a major announcement, the Moscow Exchange index, which tracks the capitalization of 43 largest Russian companies, had fallen by 3.6 percent while Russia's RTS Index dropped by almost 4 percent.
Financial analysts said that investors were "reducing their positions amid uncertainty and rumors about a new appeal by the President of the Russian Federation to citizens," The Moscow Times reported.
In its report about the prospect of a Putin national address, Readovka referred to how Russia's Security Council Secretary Nikolai Patrushev had said that the increased level of "terrorist threats" in Crimea had meant that "security gaps must be immediately eliminated there."
This hinted that Putin might seek to declare the invasion a counter-terrorism operation, which is what the Crimean regional head Sergey Aksyonov had called for to defend the four newly annexed regions of Ukraine.
Putin has refrained from describing his invasion a war and although there is a partial draft aimed at adding 300,000 Russian troops, it is not the mass mobilization and war footing that some military bloggers have been calling for.
In August, two Russian lawmakers suggested that the "special military operation" should become a "counter-terrorist operation" whose main goal would be to eliminate Ukrainian President Volodymyr Zelensky and his administration.
Separately, Peskov told the BBC on Wednesday that Russia would retake areas of Ukraine that it is currently retreating from and that the territories "will be with Russia forever, they will be returned".