Residents of Kyiv are bracing themselves for further attacks from Russian forces amid reports that the Ukrainian capital is already the scene of a street battle.
German tabloid newspaper Bild reported on Friday that there had been "heavy fighting in the northern districts of Kyiv."
"So far I've only seen Ukrainian infantry fighting vehicles, but there seem to be Russian paratroopers," tweeted Bild correspondent Julian Röpcke.
A freelance journalist in Kyiv, Neil Hauer, posted a tweet saying Russian special forces had penetrated the city center and there were reports of fighting near the country's parliament, the Rada.
Meanwhile, Radio Free Europe reported that on Kyiv street corners, armed Ukrainians in civilian clothes were "carrying AK-47s and, in one case, an RPG."
It comes as Ukraine's defense minister Oleksiy Reznikov and Valeriy Zaluzhniy, the commander-in-chief of its armed forces, announced that 18,000 guns with ammunition had been distributed to reservists in the Kyiv region.
Oleksiy Honcharenko, a member of the Ukrainian parliament, told CNN he went to Kyiv's police headquarters to pick up a gun. "I'm not a professional soldier at all, but I can try and I can do my best and I will do it if Russian forces enter Kyiv," he said.
Former Ukrainian president Petro Poroshenko showed off an AK-47 on camera as he told CNN he would be prepared to fight on the streets of Kyiv against Russian soldiers.
Video footage emerged on Friday showing Russian military vehicles entering Obolon, a district around six miles north of the city center that the Ukrainian authorities say Russia has infiltrated.
U.S. officials told CNN that they feared Kyiv could fall under Russian control within days.
Russia announced its forces had surrounded the city of Chernihiv about 90 miles north of the capital, which it had also blocked from the western side.
Russia's defense ministry said that airborne troops had joined forces with Russian landing units at the Hostomel airfield near the capital, Interfax reported, although this has not been confirmed by the Ukrainian military.
Moscow claimed that 200 troops from Ukraine's special units were killed in the operation in which there were no Russian losses, according to state news agency RIA Novosti.
Russia also said 200 of its helicopters were involved in the operation at the airfield, also known as Antonov Airport, whose capture would provide a considerable strategic advantage, allowing the en masse transport of Russian troops.
Earlier, the Russian Defense Ministry said its military had taken control of the Chernobyl nuclear power plant.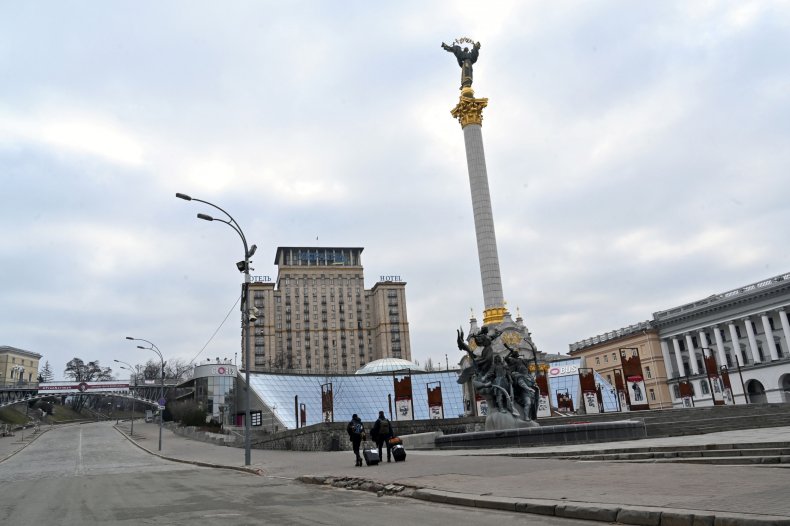 Update 02/25/22, 10:21 a.m. ET: This article has been updated to include information about the arming of Ukrainian civilians and the latest news about the city of Chernihiv and the situation at the Hostomel airfield.
Update 02/25/22, 2:41 p.m. ET: The spelling Aleksiy Goncharenko was changed to Oleksiy Honcharenko.