Ukrainian Stands in Front of Russian Military Convoy in Echo of Tiananmen Square
Footage widely shared on social media shows the dramatic moments when a person confronts a convoy of Russian military vehicles barreling down a road.
Media outlet NB tweeted the 30-second clip which shows what appears to be a man risking his life by standing in front of the vehicles as they pass by.
"Ukrainian rushes under enemy equipment so that the occupiers do not pass," NB wrote alongside the video. The clip spurred many others to compare it to another historical act of rebellion.
"Amazingly brave Ukrainian tries to stop a Russian military convoy by blocking the vehicles with his body just like the 'Tank Man' in Tiananmen Square," tweeted journalist Henry Langston.
Many others on social media also dubbed the Ukrainian "tank man." This was in reference to the man who stared down a column of tanks leaving Tiananmen Square in Beijing on June 5, 1989 after the Chinese government's violent crackdown on the Tiananmen protests.
"Ukrainian tank man. Wow," tweeted Australian politician Drew Pavlou with a split image of the incident next to the iconic picture from Beijing more than 32 years ago. Another user tweeted: "ALL my respect for Tank Man 2.0 This protester is a mad lad, but he's magnificent."
Gasps can be heard from behind the person taking the video with a female saying "don't film it." One vehicle is seen veering to its left to avoid him before carrying on.
It is not clear when or where exactly the video was taken although one social media user said "it was somewhere on the road to Kyiv."
After a day of missile strikes and fighting following Russian President Vladimir Putin's order to invade Ukraine, others in the country have been praised for their acts of resistance.
Video of a woman confronting an armed Russian soldier in Henychesk, in the Kherson region, has gone viral, in which she poignantly puts sunflower seeds in their pockets so that flowers would grow when they die on Ukrainian land.
She also swore at the soldier, telling him "you're occupants, you're fascists! What the f*ck are you doing on our land with all these guns?" according to a transcript of the exchange.
Meanwhile, a Ukrainian soldier has been hailed as a hero after he blew himself up to destroy a bridge connecting Russian-occupied Crimea with mainland Ukraine as he tried to stop Russian forces from storming in.
"He mined the bridge but couldn't leave and blew it up together with himself. The unit successfully redeployed," Euromaidan Press tweeted.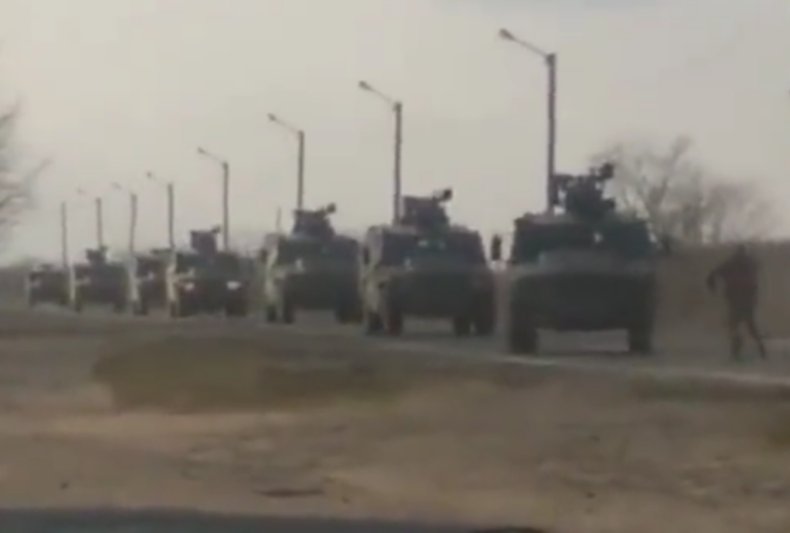 Update 02/25/22, 11.30 a.m. ET: This article has been updated with new information.