Fact Check: Did Russia Use Lasers to Target Satellites Over Ukraine Border?
Russian residents in the city of Belgorod have been left puzzled after a pillar of light was spotted rising up into the cloudy night sky.
Numerous possible explanations have been put forward for the lights, including a Russian laser weapon or a natural phenomenon.
Belgorod is located about 25 miles north of the border with Ukraine.
The Claim
On October 4 and October 5, images and videos were posted to social media from residents in Belgorod showing how a yellow beam of light was shining high into the dark sky. The sky around the beam also appears to glow yellow.
The source is not clear in any of the images as buildings typically cover the lower part of the beam before it meets the horizon.
Multiple possible explanations have been put forward as to the cause of the beam, with many military in nature, given Russia's ongoing conflict with Ukraine.
"Over Belgorod works 'Peresvet'," wrote one Twitter user, referring to Russia's Peresvet anti-satellite laser.
Daily Russian tabloid newspaper Komsomolskaya Pravda uploaded a video of the light to YouTube, and wrote in the description, translated from Russian: "A test of a top-secret weapon or a common natural phenomenon? Residents of Belgorod are at a loss."
The Facts
A suggestion that the lights may be lasers was published by Moscow newspaper Moskovskij Komsomolets in an online article on October 5. The article claimed that military correspondent Andrey Rudenko had said the military was using "the latest weapons of the Russian Federation" that day. Rudenko added: "Due to the circumstances, we are unlikely to find out, but many people saw the glow in the sky today."
This might suggest the lights could be attributed to the use of the Peresvet laser, but very little is known about it and it is unclear whether it would produce a yellow beam.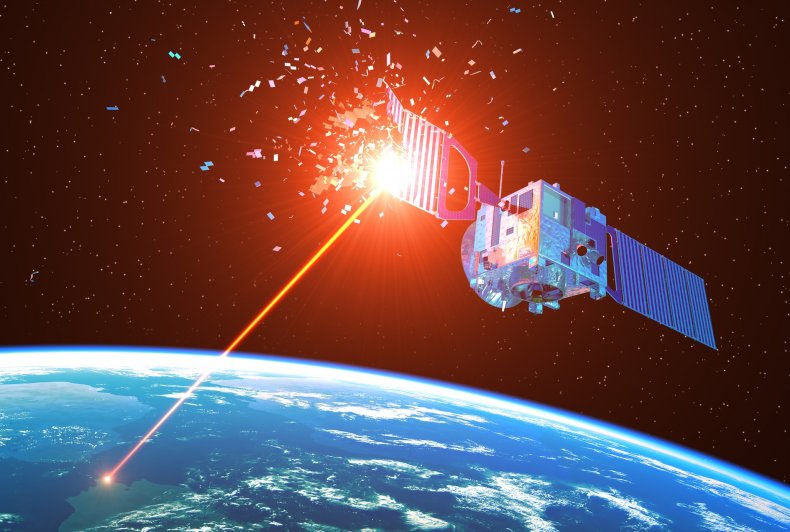 According to military news website ArmyRecognition.com, Peresvet is in service currently with development having been announced by Russian president Vladimir Putin in 2018. It can reportedly 'blind' satellites at a distance of 930 miles.
However, some social media users also noted that it would be unlikely that a beam targeting a moving space satellite would be fixed in position and pointing directly upwards.
Another potential source of the lights is a natural phenomenon known variously as a light column or light pillar.
This explanation was put forward by Russian news outlet RBC, which cited Mikhail Leus, a specialist at the Phobos weather center, as saying, translated from Russian: "In fact, the light pillars observed in the sky are an optical phenomenon in the atmosphere, which bears such a name 'light column'.
"Light pillars in the atmosphere are an optical phenomenon, a type of halo created by the refraction of light on ice crystals."
This can happen when the sun or moon is located low above the horizon around sunrise or sunset. Other sources include greenhouses, of which there is an abundance in Belgorod, according to local media reports, with some allegedly owned by Russian oligarch Roman Abramovich.
Russian state media RIA Novosti, citing scientists at the Belgorod University, also concluded that the "halos" were likely caused by the greenhouses in the area.
Ken Carslaw is a professor in the Institute for Climate and Atmospheric Science at the University of Leeds in the U.K. Speaking to Newsweek, he also said this natural phenomenon was a possibility.
"These occur in clouds with flat ice crystals that are horizontally aligned so that they all reflect downwards in the same direction above a light source," he said.
"Obviously to see this phenomenon you need ice. It's currently about 11C in Belgorod, which means these clouds must be at least 1 km above the ground or probably more—ice in clouds usually doesn't form until much lower temperatures.
"If there were any images showing this beam at much lower altitudes, then I wouldn't have an explanation."
Similar columns of light above Belgorod have been reported before—yellow columns stretching into the sky—and have been explained by local media as a meteorological phenomenon, an explanation that appears the most likely in this case too.
The Ruling
Unverified.
The source of the beams of light seen in Belgorod, Russia, on October 4 and October 5 is unclear, but they are probably meteorological. Experts in meteorology have confirmed it is possible the lights are a natural phenomenon, and they have been noted to occur in the region in the past. While a Russian newspaper has alluded to reports of weapons tests, and Russia does claim to have top secret anti-satellite lasers, based on the evidence available this explanation seems unlikely.
FACT CHECK BY NEWSWEEK