Russia Losses in Ukraine Pass New Deadly Milestone: Kyiv
The number of Russian troop losses since the start of Vladimir Putin's invasion of Ukraine has surpassed 150,000, according to Kyiv.
In its daily update, the General Staff of Ukraine's Armed Forces said on Thursday that over the previous day, Russian forces had lost 715 troops. This took its tally of Russian losses after 371 days of war to 150,605—a daily average of just over 405.
However, Ukraine's figures have noted a recent spike in casualties, with one third of those losses occurring in the last two months.
Ukraine said that the six figure-milestone of 100,000 soldier deaths had been reached on December 21, 2022. The latest figures have not been independently verified and Ukraine's total is higher than other estimates. Newsweek has contacted the Russian defense ministry for comment.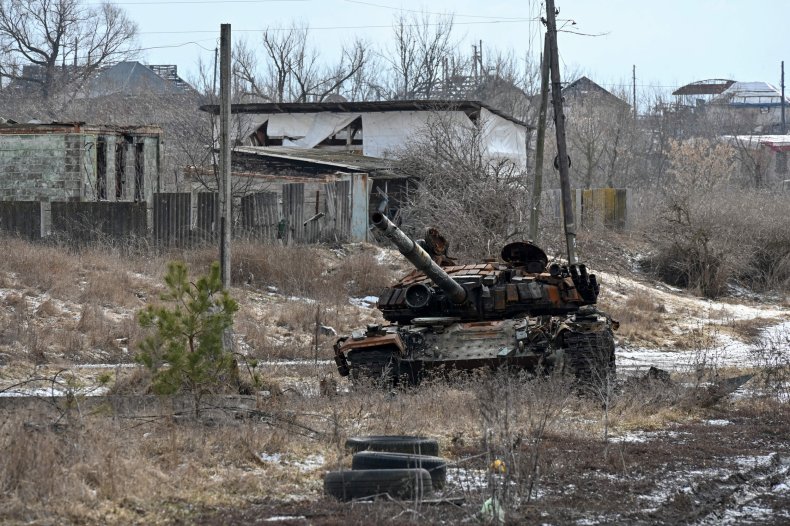 Moscow has not updated its number of deaths since the end of September 2022 when it said 5,937 of its troops had been killed. Western officials have said that there have been at least 200,000 Russian casualties but this includes those both killed and wounded.
A nationwide database compiled by independent outlet Mediazona and the BBC's Russian service has confirmed over 15,000 fatalities, although the project said that the true number is estimated to be at least twice as large.
It comes as a brief by the Center for Strategic & International Studies (CSIS) estimated that more Russian soldiers had died in Ukraine than all of Moscow's wars since World War II.
The think tank said that between 60,000 and 70,000 Russian soldiers had been killed in combat in Ukraine. That meant that every month, Russia's soldiers were being killed at a rate 25 times higher than in the wars in the republic of Chechnya and 35 times higher than in Moscow's invasion of Afghanistan. The CSIS estimated that Russia had suffered up to 25,000 fatalities in Chechnya over 15 years, 16,000 in Afghanistan and another 8,000 or so in other conflicts since 1950.
The CSIS also believed that in Ukraine, Russia had suffered roughly 200,000 to 250,000 total casualties—personnel wounded, killed and missing. This included regular Russian soldiers, militia fighters and private contractors from the Wagner Group.
The war in Ukraine has become one of "attrition characterized by dug-in forces, trenches, human-wave attacks, artillery barrages" as well as "high casualties on both sides," it said, adding that although some authoritarian regimes accept high casualties in interstate conflicts, "Russian casualty numbers are unprecedented for post-World War II Russia."
Russia's casualty rate has increased since the partial mobilization announced by Putin in September 2022, according to British defense officials. Ukraine has also suffered high losses, with a Ukrainian official putting the figure at 13,000 as of December 2022.