Russia's Newly Trained Combat Unit Poised to Enter the Fray
Russia's forces are using Belarus as a training ground for troops they are committing to fight in Ukraine, according to British defense officials.
In its daily update, the U.K. Ministry of Defense (MOD) said that Russia's 2nd Guards Motor Rifle Division (GMRD) had likely finished training that began in the fall in Belarus, whose president, Alexander Lukashenko is a close ally of Russian President Vladimir Putin.
Most of the troops had transferred back to Russia "before almost certainly being recommitted to operations in Ukraine," the update on Thursday said.
The 2nd GMRD is part of the 1st Guards Tank Army and suffered major losses in the opening stages of the war, which began last February 24. The Ukrainian Main Intelligence Directorate (GUR) said on Wednesday that some elements of the division had been deployed to the Luhansk region.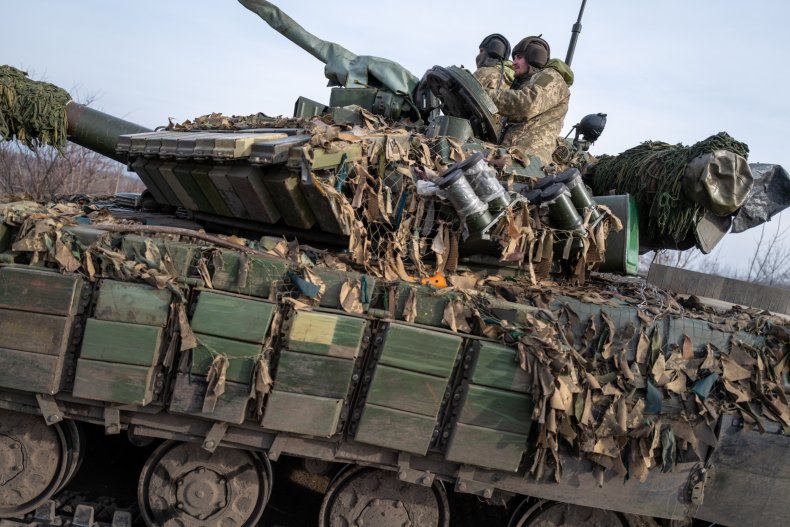 The MOD said that the unit is mostly composed of mobilized personnel "operating older equipment taken from storage" whose combat effectiveness "will likely be limited despite several weeks of training."
The defense officials said that there was "a realistic possibility that other Russian units are being rotated into Belarus for similar training."
"Russia will continue this model to regenerate and prepare units to maintain its force in Ukraine," it added.
Newsweek reached out to the Russian Defense Ministry for comment regarding the daily British assessment, which emphasizes Ukrainian gains and Russian losses.
There is uncertainty over what role Belarus might play in the war in the coming months. Last month, Minsk blamed Ukraine for a downed missile on its border, suggesting that it might have been a provocation by Ukraine's armed forces.
Belarus has been used as a staging post for Russia and there has been a buildup up of Russian military equipment in the country. However, Lukashenko has avoided more direct involvement and has dismissed the likelihood of joining forces with Russia in Ukraine, a view echoed by the Belarusian opposition in exile.
GUR representative Vadym Skibitsky said that, as of Wednesday, there were 5,800 Russian servicemembers on Belarusian territory—much lower than the estimated 10,000 that satellite imagery showed were present in late December.
Although Russian and Belarusian aviation units have conducted joint tactical flight exercises, the Institute for the Study of War said on Wednesday that the chance of a major Russian offensive in northern Ukraine from Belarus "appears increasingly unlikely."