Russian MOD Forced Into Rare Statement After Criticism Over Brigade Losses
The Russian defense ministry has issued a rare rebuttal of criticism by pro-Kremlin military bloggers (milbloggers) that blamed poor army leadership for throwing Russian troops into a recent ill-fated offensive.
The milbloggers have been giving an unvarnished view about battlefield failures on their Telegram social media accounts, in contrast to the Kremlin-approved messaging on Russian state television. One of them, called the Gray Zone, shared a missive it said was from members of the 155th Naval Infantry Brigade of the Pacific Fleet.
This condemned Russian military leaders for an offensive in Pavlivka, southwest of Donetsk on November 2. Addressed to Oleg Kozhemyako, governor of the Primorsky region in Russia's Far East, the letter condemned the offensive as "incomprehensible."
It blamed Eastern Military District Commander Lieutenant General Rustam Muradov, 155th Naval Infantry Brigade Commander Colonel Zurab Akhmedov, and Russian Chief of the General Staff, Valery Gerasimov for the action.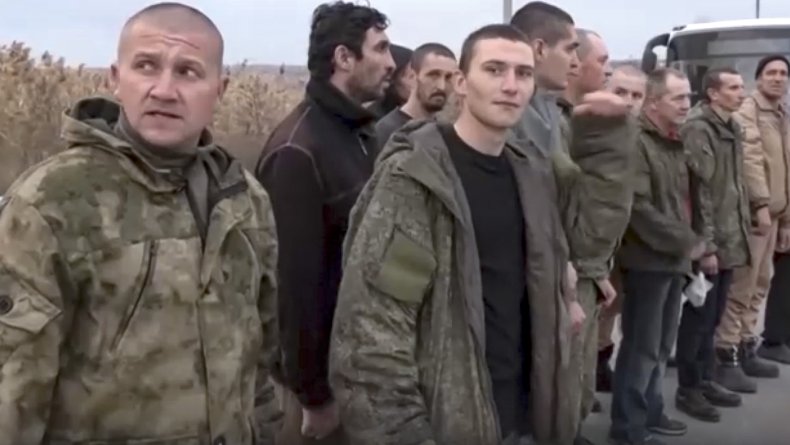 "How long will such mediocrities like Muradov and Akhmedov plan military operations for the sake of their reports and receive awards at the cost of the lives of so many people," the letter said, as it called for Kozhemyako to investigate the feasibility of the Pavlivka campaign.
"They don't care about anything apart from showing off," it said, adding that to the military commanders in question, soldiers are just "cannon fodder."
The existence of the letter was reported by state media war correspondent Alexander Sladkov.
The Russian Ministry of Defense (MoD) on Monday rejected the letter's claims. It said that not even one percent of the brigade had been killed and fewer than seven percent wounded over the previous 10 days. It said that it was Ukraine which had suffered high losses instead, state news agency RIA Novosti reported.
Kozhemyako said that the brigade's losses were exaggerated and speculated that the letter stemmed from Ukraine's special services, referring the case to the Russian military prosecutor.
The U.S. think tank the Institute for the Study of War (ISW) said that the Russian defense ministry response "indicates that some Russian milbloggers have considerable leverage to shape MoD interactions in the information space."
The ISW also suggested that "the situation in Pavlivka is dire enough to warrant a response," from defense officials and that discourse around Russian military failure has "pervaded beyond the milblogger information space and is increasingly coloring social dynamics."
The wives and mothers of Russian military personnel have relayed their concerns about the war to milbloggers since Vladimir Putin announced a partial mobilization in September, the ISW said.
Russian defense officials "failure to properly address these systemic issues and their root causes will likely exacerbate these societal tensions throughout the war," the ISW added.
Newsweek has contacted the Russian defense ministry for comment.