Putin Faces Second Revolt as Russian Officials Slam War, Demand Resignation
A Moscow municipality has become the second Russian local authority this week to take the risk of calling for Vladimir Putin's resignation.
The letter addressed to the president by council deputies at Lomonosovsky Municipal District did not directly mention Putin's invasion of Ukraine, but did refer to how Russia had now become "feared and hated" while "aggression" has taken the country back to the "Cold War era."
The letter also made a pointed criticism of the length of Putin's presidency, describing how following local Moscow elections on Sunday, it was a good thing that the council's membership would change after five years.
"In countries with regular turnover of power, people, on average, live better and longer than in those where the leader leaves office carried out in a box," it said.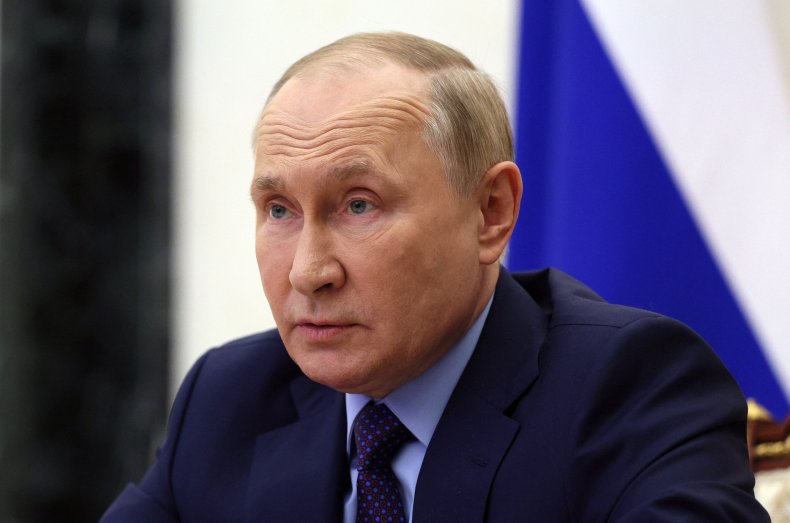 Putin became president in 2000, a role he has held apart from four years between 2008 and 2012, when Dmitry Medvedev took over in what was seen globally as a move just to keep his seat warm. Upon resuming the presidency in 2012, the Russian constitution has been changed to allow him to potentially stay as head of state until 2036.
The missive went on to say there had been "good reforms" in the first and part of the second of Putin's terms, but after that "somehow everything went wrong." It referred to Russia's brain drain, how the minimum wage and GDP did not rise enough and the "promised stability is not in sight."
"The rhetoric that you and your subordinates are using has been riddled with intolerance and aggression for a long time, which in the end effectively threw our country back into the Cold War era," the letter said.
"Russia has again begun to be feared and hated, we again threaten the whole world with nuclear weapons," it added. "We ask you to relieve yourself of your post due to the fact that your views, your management model are hopelessly outdated and hinder the development of Russia and its human potential."
Journalist and Russia watcher Julia Davis tweeted how the council had voted on the motion and produced the letter, which was also reported by the independent Russian-language news outlet The Insider.
"Criticism of Putin is rare, & while the two motions were little more than symbolic statements, they represented a remarkable public rebuke," Davis wrote.
Newsweek has contacted the Kremlin and Lomonosovsky Municipal District Council for comment.
Criticizing Putin so brazenly carries a considerable risk where dissent can lead to imprisonment or worse. Police in St Petersburg have said they would charge lawmakers at Smolninsky District Council in Putin's home town after they called for the president to be charged with treason.
The district council's statement came in the form of a request to the Russian parliament, the State Duma, and said Putin's invasion led to a massive loss of life, disabled veterans, hindered the national economy, and fast-tracked NATO's eastward expansion. Police said they face charges linked to "discrediting" the Russian government,