Russian Troops Complain to Putin About 1940s Weapons: 'We Are Not Meat'
Mobilized Russian troops fighting in Ukraine have complained in a video about old equipment, a lack of effective command and being sent out as cannon fodder.
Since the start of the war, reports have abounded of low morale among Russian troops and a lack of training and equipment, in particular for those who have been mobilized as part of the draft announced at the end of September.
But this latest clip, which as of Monday had been viewed more than 100,000 times, gave a snapshot of the extent of some of the broader complaints that have been emerging on social media from mobilized Russian troops.
Tweeted by the account of War Translated, the clip shows a group of Russian soldiers in an undisclosed location behind a man in front saying: "We appeal to commander-in-chief Vladimir Putin." He said they were drafted from Russia's Kaliningrad, Murmansk and Arkhangelsk regions and were serving in the 5th Motorized Brigade.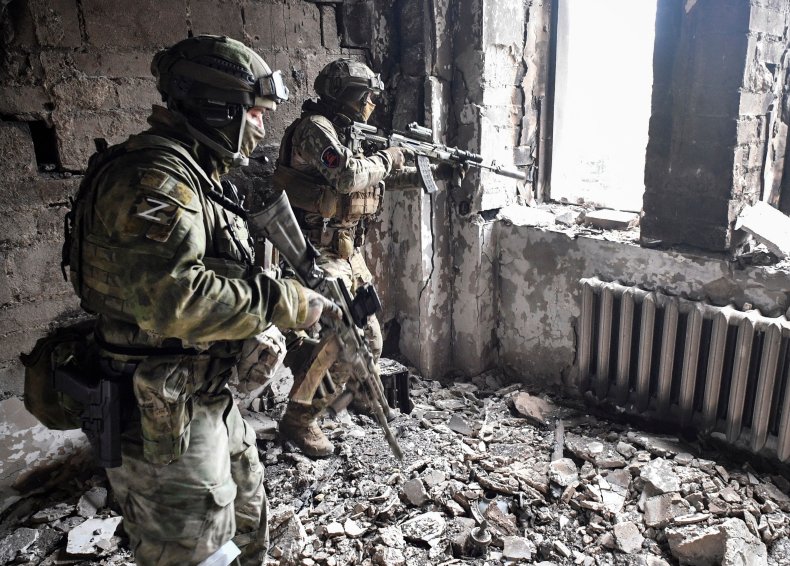 Among his list of complaints was how his regiment hadn't been given any strategy or tactics. They had also been sent into assaults with no cooperation with commanders, a lack of fire support and no way to conduct night and day surveillance.
"We're lacking armored vehicles and artillery support ahead of the assault," he said, and "weapons from the 1940s are being used, including mortars and guns."
He spoke of how there was no air reconnaissance, no written combat orders and that the group was prepared for territorial defense, not as an assault unit. During its first assault, six of the regiment's troops had been killed in one trench.
"We're asking you to pay rigorous attention to the preparation of the assault by the brigade," he said, adding that punitive measures against them for being rioters "are already being prepared," including being locked in cellars.
"We have no rioters," he said, "we are all 30 to 40 years old, we have families and children and higher education."
Another man in the group complains about old combat vehicles. "People die for nothing, people are sent into frontal attacks, sent into an empty field in the 21st century," the unnamed soldier said.
"We can't fight like that and we won't achieve victory with minor casualties." While on other fronts, Russian personnel had been preserved in favor of vehicles and artillery, "the complete opposite happens here."
"We are not meat, we are ready to fight with dignity," he added.
Newsweek has contacted the Russian defense ministry about the claims, which come as Western analysts are noting how Russian forces have relied on older equipment in the face of huge losses of vehicles.