Russia May Be Unable to Withstand Ukrainian Push in Luhansk: UK
Russia is likely to mount a "stubborn defense" of the Luhansk oblast in Ukraine's east although there is doubt over whether its forces have the resources to handle a further push by Kyiv's forces, British defense officials have said.
The U.K. Ministry of Defense (MOD) said Ukraine's forces were continuing with their counteroffensive in the north-east and that Russian troops had established a defensive line between the Oskil River and the town of Svatove along the Luhansk border.
The assessment said that "any substantial loss of territory" in Luhansk will "unambiguously undermine Russia's strategy."
"Russia will likely attempt to conduct a stubborn defense of this area," the officials said, "but it is unclear whether Russia's front line forces have sufficient reserves or adequate morale to withstand another concerted Ukrainian assault."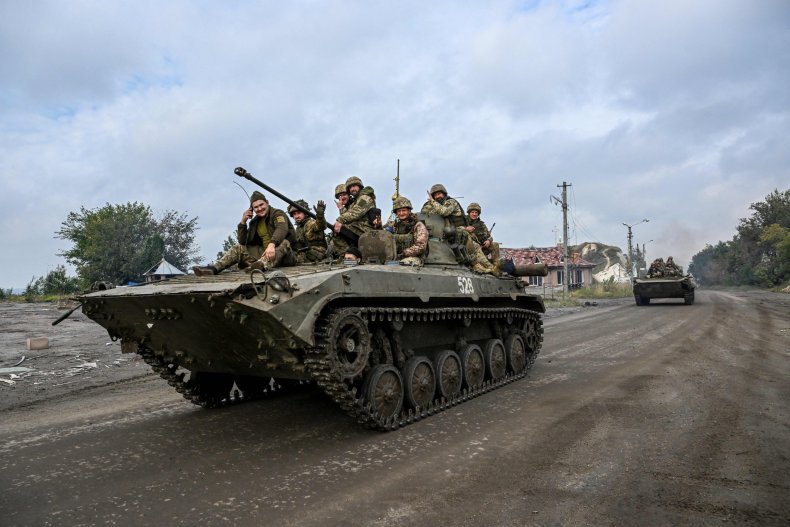 Newsweek has contacted the Russian defense ministry for a response to the daily MOD assessment, which emphasizes Ukraine's gains and Russian losses.
Reeling from Ukraine's lightning gains in the counteroffensive, Vladimir Putin appeared to threaten increased attacks on civilian infrastructure if Russian facilities were targeted.
Although Kyiv has not indicated that Ukrainian forces will advance into Russia, cross-border attacks have become more frequent over the last few days.
Valuyki in Russia's Belgorod region on the other side of the border with Ukraine was hit on Friday. One civilian was killed and two were injured in the shelling, according to regional governor Vyacheslav Gladkov. The town is the location of the base of the Russian 3rd Motorized Rifle Division.
Putin said on Friday that Moscow had been "rather restrained in our response" to Ukrainian attacks on its facilities without specifying further. He insisted there was no need to revise Russia's military goal of the "liberation" of Ukraine's entire Donbas region.
The think-tank the Institute for the Study of War [ISW] said Putin aimed the comments at Russian military bloggers, who have criticized the Kremlin for failing to protect Russian territory and for failing to respond adequately.
"Putin has increasingly shown a determination to appease the milbloggers and the constituencies they speak to," the ISW said, which was "even at the expense of the uniformed Russian military and the Russian Ministry of Defense."
Meanwhile, Ukrainian president Volodymyr Zelenskiy said in his nightly address on Friday that the "the world must react" to the discovery of a mass burial site of more than 440 bodies in the recaptured eastern city of Izium.