Russia Loses 18 Tanks, Helicopter and Fighter Jet in a Single Day: Ukraine
Russia suffered significant losses of military equipment both in the air and on the ground over the last 24 hours, the Ukrainian Armed Forces have said in their latest update.
Ukraine's military said on Friday that over the previous day, Russia had lost 18 tanks, a helicopter and a fighter jet, as well as 14 artillery systems and eight Multiple Launch Rocket Systems (MLRS).
It said that Russia's biggest losses occurred towards Kramatorsky and Donetsk in the east of the country, adding that Ukrainian anti-aircraft missile units destroyed seven Russian targets, including four Iranian-made drones.
The details of the daily assessment have not been independently verified and Newsweek has contacted the Russian defense ministry for comment.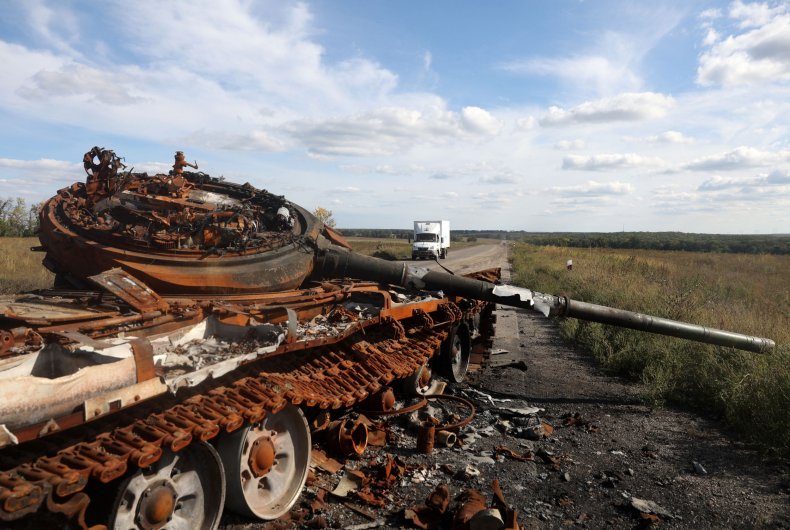 It comes as Britain's Ministry of Defence said on Friday that over the last three days Ukrainian forces had secured bridgeheads in the Kharkiv Oblast on the east bank of the Oskil River, which Russia had tried to integrate into a consolidated defensive line after its forces retreated earlier in September.
Defense officials said that Ukrainian troops were assaulting the town of Lyman, east of the Siverskyy Donets River, which Russia captured in May.
However, Oleh Synyehubov, the governor of Kharkiv, wrote on Telegram that Russian troops continue to "terrorize the civilian population" of his region by shelling settlements adjacent to the contact line and the border with Russia.
He said two children were among three people who had been injured in the shelling.
On Wednesday, Vladimir Putin announced a partial mobilization to boost his flagging invasion in which his troops have had to retreat following a Ukrainian counteroffensive.
Russian Defense Minister Sergei Shoigu said 300,000 reservists would be called up although there are reports that the number sought would be much higher.
Video widely shared on social media shows men saying tearful goodbyes in a small town in the Sakha Republic, which is in the far east of Russia, before being loaded onto a bus to be taken off for military training.
The mobilization has sparked the biggest protests in Russia since the start of the war and have seen more than 1,300 people arrested across 38 cities.
Meanwhile, voting began on Friday in the Russian-held Donetsk and Luhansk regions, as well as in the southern Kherson and Zaporizhzhia regions, on whether they should become parts of Russia. The plebiscites have been dismissed as a sham by Kyiv and its allies.
The four regions' integration into Russia would represent a major escalation of the conflict in Ukraine.
U.S. Secretary of State Antony Blinken told a UN Security Council session: "We cannot—we will not—allow President Putin to get away with it."