Multiple casualties have been reported in Ukraine after Russia launched an all-out invasion of its neighbor.
Citing a Ukrainian interior ministry source, CNN reported that the first missile strikes on Thursday in Ukraine caused hundreds of casualties, although it wasn't known how many of those people were killed.
There have been conflicting claims on injuries, deaths, and plane shoot-downs, many of which have not been independently confirmed. Newsweek has contacted the Ukrainian interior ministry for comment.
However, images shared on social media demonstrated the extent to which civilians were being impacted by Russia's actions and how widespread the attacks were.
CNN said that there had been at least 19 salvos in the capital city, Kyiv, and there have been reports of similar strikes across the country.
Kyiv has reported troops pouring across its borders into the eastern Chernihiv, Kharkiv and Luhansk regions, and landing by sea at the cities of Odessa and Mariupol in the south.
One clip on Twitter showed an apartment block in the eastern Ukrainian town of Chuhuiv that was seriously damaged after it was hit in the opening strikes.
Meanwhile, Ukraine's General Office of the National Police said that at least six people has been killed and seven others wounded in a bombing in the city of Podolsk in the southern Odessa region.
Video was also shared on Twitter of a missile hitting an airport, reportedly in Ivano-Frankivsk in Western Ukraine.
Investigative journalism and fact checking website Bellingcat said it had verified footage of the moment a cyclist was killed by Russian artillery in Uman, in Cherkasy region.
Warning. Graphic Content.
Elsewhere, a man told AFP of his sorrow at the death of his father who was among the wreckage of a missile strike in a residential district in Chuhuiv.
The Ukrainian interior ministry published images of border service facilities in the Kyiv region which it said had probably been hit by missiles.
"The enemy attacked not only units on the border, but also objects in cities of Ukraine," it said in a Facebook post, according to a translation. "The main task is panic and removal of certain military objects and critical infrastructure."
A resident of Ukraine's second largest city Kharkiv told Reuters windows in apartment blocks were shaking from constant blasts.
Ukrainian journalist Lyubov Velychko told the BBC she went to a military base near Kyiv which had been hit by rockets in an attack in which two people died.
The hostilities have sparked an exodus from the capital where traffic jams had formed. Residents sought shelter in metro stations and stood in line for buses and bank machines.
Russian President Vladimir Putin had announced during a television address that the invasion was to protect Russian citizens who had faced "genocide" in Ukraine, a claim dismissed by the West as absurd.
Ukraine's President Volodymyr Zelenskyy said Putin's aim was to destroy his state and announced that Kyiv's diplomatic ties with Moscow had been cut.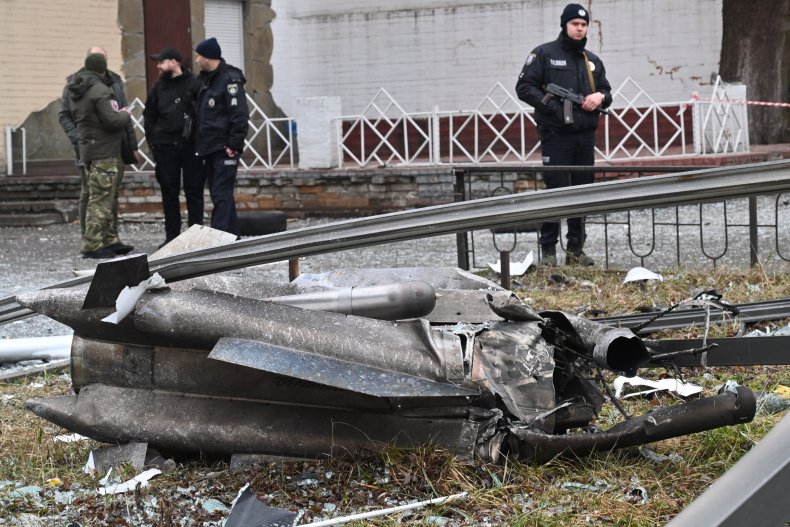 This story has been updated.