Russia Admits the Truth on Deporting Ukrainian Children
A top Russian official has said that her government is deporting Ukrainian children to Russia. The Telegram post by Russia's commissioner on children's rights, Maria Lvova-Belova, confirms reports since the start of Moscow's invasion that Ukrainian children have been sent to Russia.
In reporting Lvova-Belova's comments, the Institute for the Study of War think tank said that the forced deportation and adoption of Ukrainian children is an apparent violation of the Geneva Convention on the Prevention and Punishment of Genocide. The ISW added that the move is part "of a wider ethnic-cleaning campaign."
Lvova-Belova's post on Friday tried to disprove Western accusations that deporting children was illegal. She said that "fear and panic" was being "artificially" created by the West and that the real picture of events had been distorted.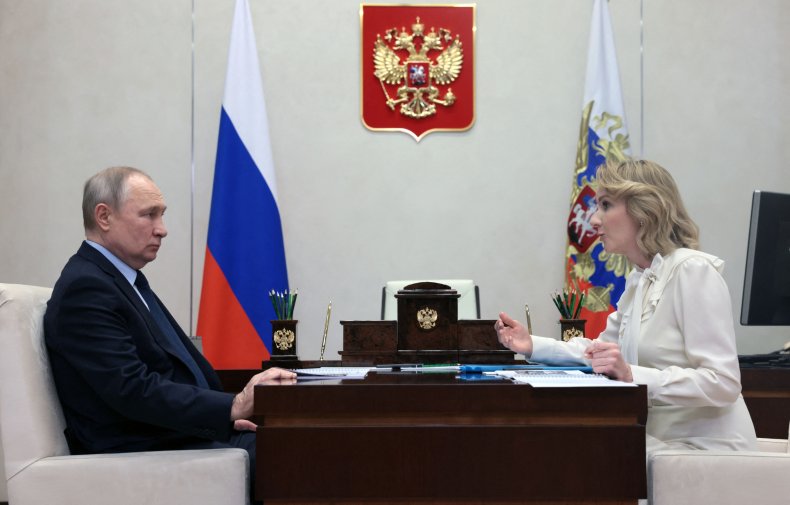 Lvova-Belova wrote that parents in the oblasts of Kherson, Zaporizhzhia, and Kharkiv had "voluntarily" sent their children to "sanatoriums" and health camps in occupied Crimea and the Russian region of Krasnodar for "rest" and protection from hostilities.
Lvova-Belova justified a delay in the return of children by saying that the situation on the front line was often not safe for parents to get them back.
"Despite all the difficulties, most of the children, fortunately, have already returned to their families," Lvova-Belova said. She added that 89 children remain in southern Russia. Her post added an email address for parents to use "for help in finding your child."
"Lvova-Belova's claim that a certain number of Ukrainian children are being returned to their families does not negate the reality that the vast majority of abducted children do not return to Ukraine," the ISW said on Friday.
Russia has insisted such camps are part of a humanitarian project for abandoned, war-traumatized orphans. But Ukrainian officials have said that Moscow has evacuated thousands of children without parental consent.
A report released in February by Yale University said there is a network of at least 43 child custody centers right across Russia, including two camps in Siberia and one in the Far East. The Yale team said at least 6,000 Ukrainian children, ranging from toddlers to teenagers, had been detained, although it believes there are thousands more.
Some are adopted, while other cases involve children going to summer-camp programs from which they do not return. The primary purpose of at least a third of the camps appears to be "political re-education," the report said.
The sophistication of the operation pointed to the program being controlled from the top of the Russian government, concluded the report, undertaken in collaboration with the U.S. State Department, which Newsweek has contacted for comment.
"It is a massive logistical undertaking that does not happen by accident," Nathaniel Raymond, executive director of Yale University Humanitarian Research Lab, told NPR.