How Mud Could Scupper Putin's Major Offensive—U.K. Intelligence
Vladimir Putin's forces have reportedly launched an offensive in eastern Ukraine but the advance could be hampered by muddy conditions.
The weather is a key factor in the war and the frozen ground over the past few weeks has meant little change was likely in cross-country mobility conditions, according to British defense officials.
On Wednesday the temperature hovered just above 0 C (32 F) and this is likely to continue in the coming days. This will cause snow to melt, making mobility more difficult across the Donbas region.
But the U.K. Ministry of Defense has predicted that extremely muddy conditions will be at their worst over mid to late March and "commanders on both sides will highly likely seek to avoid scheduling major offensives at such times."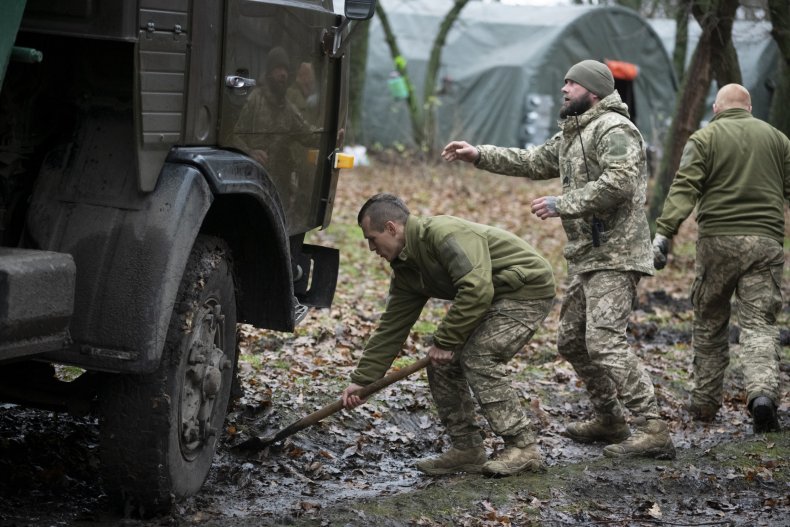 "However, perceived political or operational opportunities can override such concerns, as demonstrated by Russia launching its invasion in late February 2022," said the U.K. ministry update, which was issued on Thursday and highlights Russian losses and Ukrainian gains.
Former British military intelligence officer Philip Ingram told Newsweek that the weather and ground conditions were critical to military operations.
"We saw last year how Russian wheeled and tracked vehicles got stuck in Ukrainian fields in March and April, and the Russians were forced to use tracks and roads, which made it easy for the Ukrainian defenders to channel them and pick them off," he said.
"The same conditions will happen this year and will dictate when and where armored maneuver operations can happen," Ingram added. "This is possible twice a year, during the frozen winter, and then the late spring and through the summer when the ground is hard.
"Mud is a critical defense for Ukraine and has worked in their favor so far, but it will impact both sides," Ingram added.
The pace of Russian operations along the Svatove-Kreminna line in the Luhansk region has increased in recent weeks, according to the Institute for the Study of War (ISW).
The U.S. think tank said three major Russian divisions were operating in this sector, showing that Moscow's offensive had begun although "Ukrainian forces are so far preventing Russian forces from securing significant gains."
The Kremlin's troops are attacking Ukrainian defensive lines and making small advances along the border between the Kharkiv and Luhansk regions, the ISW said, although "the Russian offensive likely has not yet reached its full tempo."
The institute added that Russian forces may have taken back the initiative from Ukraine's troops, but success for Moscow is "not inherent or predetermined."
The think tank said the full commitment of Russian forces could lead to their culmination along the Svatove-Kreminna line without capturing all of Luhansk and Donetsk oblasts, which the Kremlin is aiming for. That could give "a window of opportunity for Ukrainian forces to exploit with their own counteroffensive," the ISW added.
Some of the fiercest battles of the war continue around the city of Bakhmut in the northern part of Donetsk oblast, as well as near Vuhledar, around 30 miles southwest.
In a joint press conference with U.S. Secretary of State Antony Blinken on Wednesday, NATO secretary general Jens Stoltenberg said Moscow was "preparing for new military offensives."
"So we must continue to provide Ukraine with the weapons it needs to retake territory, and prevail," he added.
Newsweek has contacted the Russian defense ministry for comment.
Update 02/09/23, 6:30 a.m. ET: This article has been updated with comment from Philip Ingram.