A Ukrainian military official has said Russia has gained the advantage as fighting rages in the eastern Luhansk region.
Oleksiy Gromov of the General Staff of the Armed Forces of Ukraine said on Thursday that Russia had the upper hand "both in aviation and in artillery," but Kyiv's forces were "trying with all our might to change the situation."
He told a briefing in Kyiv that the situation in the area of Severodonetsk was "difficult, but stable" and that Russian forces were carrying out airstrikes and artillery damage on Ukrainian troops.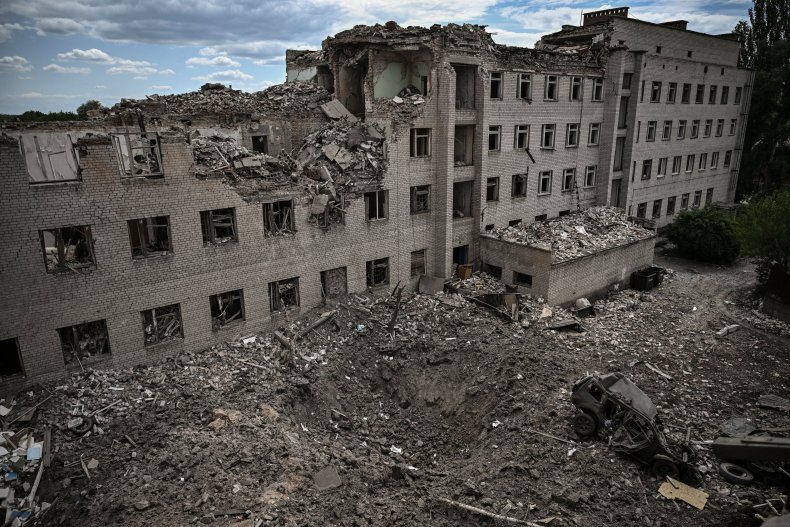 "Every unit, every serviceman acts according to the general plan of the senior commander," he said, according to news agency Interfax, adding that the provision of weapons from allies "will accelerate our victory."
He said that Russian forces were operating according to a "classic scheme" in which they first used bomber aircraft, then assault aircraft followed by attacks from artillery and ground troops.
His comments come as an adviser to Ukrainian President Volodymyr Zelensky gave a pessimistic take on Ukraine's fighting.
Oleksiy Arestovych told the outlet Agentsva on Wednesday that Ukrainian forces lagged behind Russian forces "in terms of pace."
He said that the Russian side had "managed to accumulate reserves before we did" and that the lag in accumulating military resources "makes the situation at the front extremely difficult."
He also warned that in the near future, "the situation at the front will worsen, encirclements are possible" coming with it the prospect of settlements being abandoned and "heavy losses."
Gromov's comments come as at least four people were killed Thursday when the center of Kharkiv, Ukraine's second city, was shelled, according to regional governor Oleh Synyehubov.
Ukraine said that Russian forces attacked more than 40 towns in the eastern Donetsk and Luhansk region and the cities of Severodonetsk and Lysychansk also came under bombardment.
Ukraine's deputy defense minister, Hanna Maliar, said on Thursday that the Russians are storming Ukrainian positions in several areas of the Donbas simultaneously with "tactical rocket systems, aviation and artillery."
"As of today, the aggressor conducts intensified fire along the whole line of contact and the positions of our forces in the Donetsk operational region," Maliar said. Meanwhile, the Russian MP and retired general Vladimir Shamanov, a retired general, suggested that the war in Ukraine is likely to be a long drawn-out affair.
The publication RBC reported that he had said in an interview that the "demilitarization" and "denazification" of Ukraine—the Kremlin's justification for its invasion—could take "five to 10 years."
Update 05/26/22, 11:00 a.m. ET: This article has been updated with further information.