Russia Admits Winning Ukraine War Impossible Unless It Captures Bakhmut
A Russian envoy to the United Nations has said it will be impossible for his country to achieve President Vladimir Putin's war aims in Ukraine unless Bakhmut, an industrial city in the Donbas, is captured.
Bakhmut, in the eastern Donetsk region, has remained a focal point of the war for half a year. Russia's military has been focusing its attacks on the city, led by the notorious paramilitary outfit, the Wagner Group, hoping to capture it.
So far, Moscow has failed to make significant advances in Bakhmut, even after last month's fall of the nearby salt-mining town of Soledar—a victory claimed by the Wagner Group founder, Yevgeny Prigozhin.
The gruelling battle for the city and intensifying clashes between Russian and Ukrainian forces have left Bakhmut, which had a pre-war population of 70,000, a shell of its former self. According to Ukrainska Pravda, 90 percent of Bakhmut's residents have fled, with the 8,000 who remain subject to daily fire.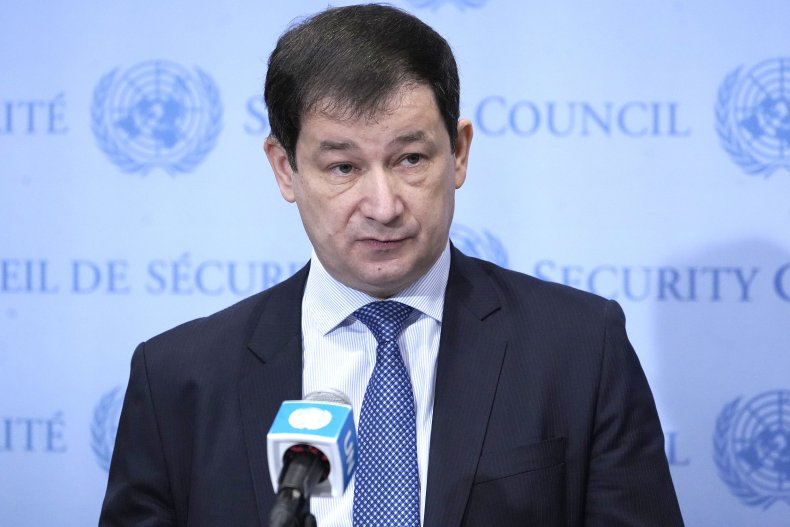 Many analysts say Bakhmut holds little value in strategic terms. However, the first deputy permanent representative to the United Nations, Dmitry Polyanskiy, told Newsweek on Tuesday that the city is key to achieving one of the tasks the Russian president laid out when he launched his full-scale invasion of Ukraine last February.
In launching the war, which Putin still calls a "special military operation," the Russian leader said one of his main objectives was to "liberate" Donbas, a separatist region in south-eastern Ukraine with linguistic ties to Russia.
"I know that there is no way to liberate Donbas without capturing Bakhmut and I know that liberation of Donbas is one of the tasks of our military operation," Polyanskiy said on Tuesday.
The Russian diplomat described the war-ravaged city as a "fortress" that is "part of a heavily fortified line of defense."
"It's not just a simple city. It's a city that has long underground tunnels and fortifications," he said. "That's why it's so difficult to capture this fortress, but I'm sure that we will do it."
Jon Roozenbeek, a British Academy postdoctoral fellow—whose research has focused on the war in Donbas since 2014—at the University of Cambridge, previously told Newsweek that taking the town would be symbolic for Russia as it would enable Putin to show some form of military victory.
If captured, it would be Russia's first major battlefield gain since the summer of 2022.
Roozenbeek said Bakhmut itself doesn't hold a lot of strategic value, but the location does. He explained that taking Bakhmut would enable Putin's troops to launch artillery strikes on key places, such as the cities of Kramatorsk and Slovyansk in the Donetsk region.
Jaroslava Barbieri, a doctoral researcher in Russian foreign policy at the University of Birmingham, also said the city has more symbolic—rather than strategic—military importance.
"Taking control over Bakhmut is a desperate attempt to send the message that Russia is making incremental gains and can still win in Ukraine," she told Newsweek.
Ukrainian President Volodymyr Zelensky this month vowed to defend Bakhmut as long as his troops are able.
"Nobody will give away Bakhmut," he told a press conference on February 3. "We will fight for as long as we can. We consider Bakhmut our fortress."
The Institute for the Study of War, a Washington D.C.-based think tank, assessed in its daily update of Russia's war in Ukraine on Tuesday that the Ukrainian defense of Bakhmut has degraded significant Russian forces and will likely set favorable conditions for a future Ukrainian counteroffensive.
The think tank assessed that had Russian troops taken Bakhmut without significant Ukrainian resistance, they could have hoped to expand operations in ways that could have forced Ukraine to construct hasty defensive positions in less favorable terrain.
"Therefore, Ukraine's defense of Bakhmut and undertaking an effort to set conditions for a counteroffensive are likely complementary, not mutually exclusive, activities considering that Russian forces would have continued their offensive beyond Bakhmut had Ukraine yielded the city earlier," the ISW concluded.
Do you have a tip on a world news story that Newsweek should be covering? Do you have a question about the Russia-Ukraine war? Let us know via worldnews@newsweek.com.