Putin Cancer Surgery Rumors Swirl Over Alleged Report From Kremlin Insider
Vladimir Putin is allegedly about to undergo cancer surgery, with rumors continuing to circulate about his health following Russia's invasion of Ukraine.
Question marks over the Russian president's public appearances, in which he appears shaky and unwell, have fueled speculation about whether he has a serious illness.
However, one analyst told Newsweek that Putin's demeanor could simply be "theatrics." The Kremlin, which Newsweek has contacted for comment, has previously insisted that the president is in good health.
The latest claim about the Russian president was made on a Telegram social media channel purportedly run by a former Russian Foreign Intelligence Service lieutenant general, using the pseudonym "Viktor Mikhailovich."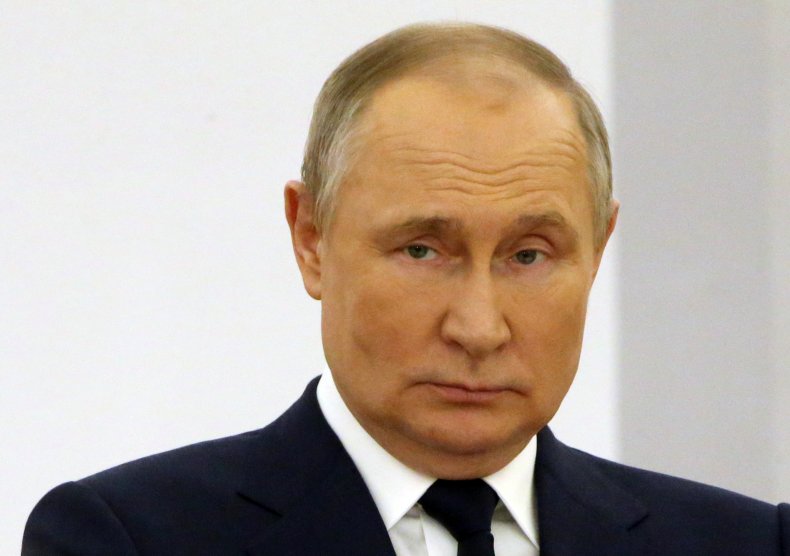 In a claim reported by the New York Post, the channel said Saturday that surgery might put Putin out for a short time, during which he will transfer control of the Russian government to the secretary of Russia's Security Council, Nikolai Patrushev.
A post made on Thursday on the channel said that Putin spoke with Patrushev for two hours and "made it clear" to him that he views him as "almost the only truly confidant and friend in the system of power."
Putin apparently promised Patrushev, according to the post, that in the event of a "sharp deterioration" in his health, control of Russia would pass to him "temporarily."
Cancer has been among a number of armchair diagnoses of Putin that have emerged in the last few weeks, which include dementia and Parkinson's Disease.
A clip of the Russian leader holding the corner of a table with his right hand throughout a meeting with his defense minister Sergei Shoigu added to the speculation.
A recent report by Russian investigative outlet The Project said the Russian president had been examined by oncologist Evgeny Selivanov 35 times in the last few years.
Putin disappeared from the public eye for eight days in August 2017 and Selivanov was said to be in Sochi at the same time, as were a number of Putin's other doctors. It seems that when he disappeared, he was not officially in Sochi, although that's where he was likely to have been as he goes there every summer.
However, Olga Lautmann, a senior fellow at the Center for European Policy Analysis doubted whether there was any truth to the recent rumors about Putin's health.
"Russia is a very controlled society and has full control over information, especially when it involves Kremlin officials," she told Newsweek.
"I think that Putin coming out and exhibiting symptoms of sickness was more theatrics and distraction," she said. "If Putin was really ill, he wouldn't want people surrounding him to know."
Lautmann said that there could be a number of reasons for public images of an apparently ailing leader. These include the Kremlin floating the idea among the Russian public "that Putin may be sick and will step down so there is no need for them to get concerned with his iron rule."
During his presidency, Putin has presented himself as a physically strong leader with the Kremlin regularly releasing pictures of him engaged in rigorous activity, whether on horseback, holding a fishing rod or engaged in a judo tussle.
In April, Kremlin spokesman Dmitry Peskov denied Putin had undergone surgery for thyroid cancer, and said his health was "excellent."
Lautmann, a co-host of the podcast series Kremlin File, also said that the latest images could be a way for Putin to monitor whether any individuals or groups "are attempting to make a power grab." They could also be part of a tactic "to lay the groundwork for putting a new face on the Kremlin."
"Normally this has been done for domestic purposes but occasionally they do this to grab the attention of the West," she said.
Update 3/5/22, 7:25 a.m. EDT: This article has been updated to include further details and comment from Olga Lautmann.