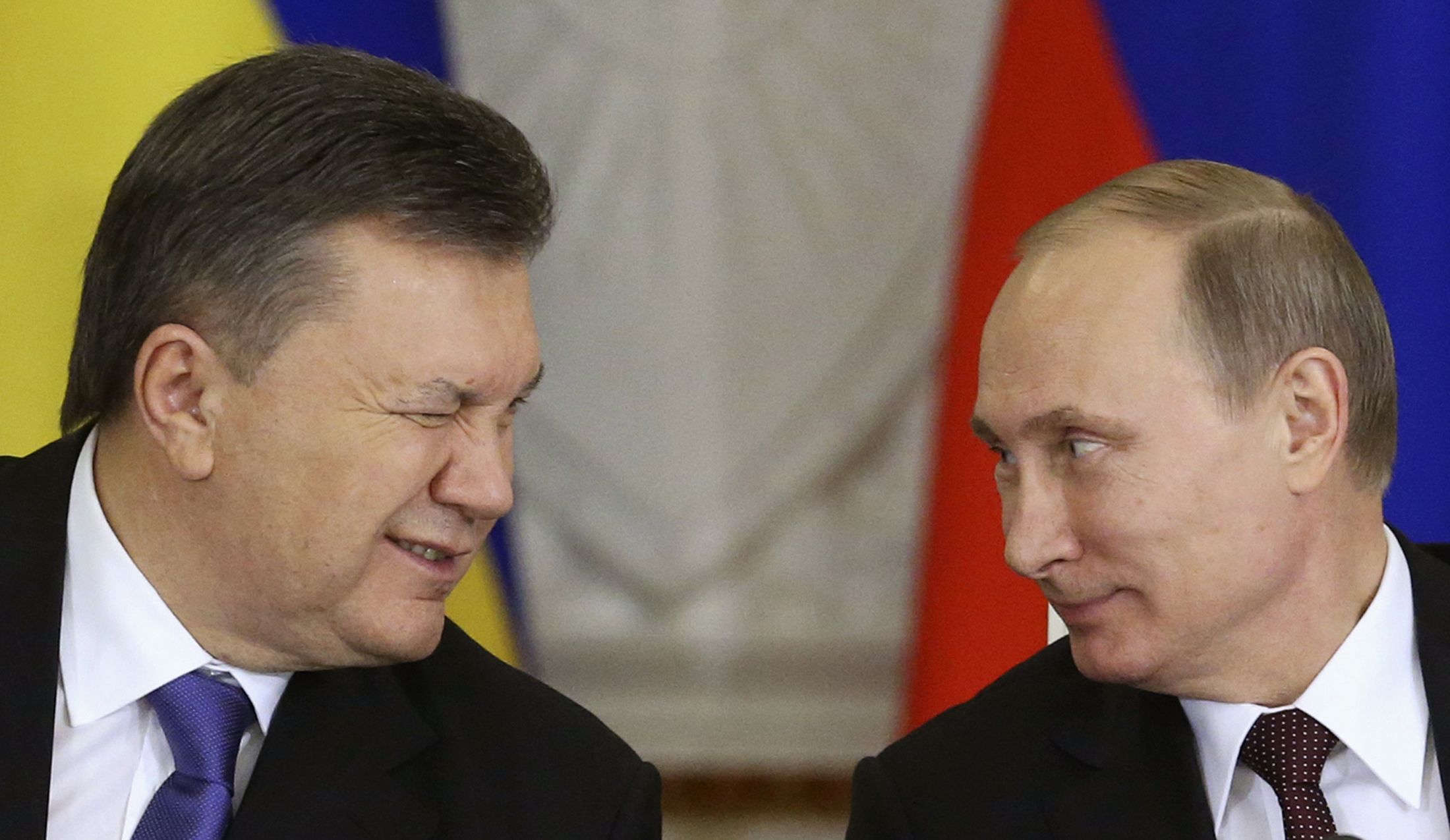 (Reuters) - Russia threw Ukraine an economic lifeline on Tuesday, agreeing to buy $15 billion of Ukrainian debt and to reduce the price its cash-strapped neighbor pays for vital Russian gas supplies by about one-third.
The deal, reached at talks in Moscow between the Russian and Ukrainian leaders, is intended to help Ukraine stave off economic crisis though Moscow will hope it keeps Kiev in its political and economic orbit.
The agreement could also fuel protests in Kiev against Ukrainian President Viktor Yanukovich, who faces accusations of "selling" Ukraine to the highest bidder after spurning a trade deal with the European Union and turning to Moscow for help.
Finance Minister Anton Siluanov said Russia would tap a National Welfare Fund - a rainy day fund - and use the $15 billion to buy Ukrainian eurobonds.
The deal boosted the price of Ukraine's dollar debt, a sign of investors' confidence.
"Needless to say, financial markets are likely to rally as the immediate threat of a balance of payments crisis recedes," Neil Shearing, chief emerging markets economist at Capital Economics in London.
"But considerable risks to the outlook remain."
Announcing the deal after talks with Yanukovich, President Valdimir Putin said Russia would help Ukraine through its problems as big debt repayments loom but that there had been no discussion of Kiev joining a Russia-led customs union.
"The Russian government has made the decision to convert part of its reserves from the National Welfare Fund into Ukrainian securities. The volume is $15 billion," Putin said in the Kremlin, with Yanukovich beside him.
"I want to draw your attention to the fact that this is not tied to any conditions ... I want to calm you down - we have not discussed the issue of Ukraine's accession to the customs union at all today."
Ukraine's Naftogaz energy company will pay Russia's Gazprom $268.5 per 1,000 cubic meters of natural gas, on which it is heavily dependent. The previous price had been about $400 per 1,000 cubic meters.
The new price will take effect at the start of next month, Ukraine's energy minister said.
Traders said Russia had also agreed to resume oil supplies to a refinery in Ukraine after a three-year break.
Ukraine is in the grip of a financial crisis that could hit fuel supplies this winter, caught between Western powers, keen to anchor the nation in a friendly embrace on the EU's borders, and Moscow, which accuses the West of turning its former Soviet territories against it.
Yanukovich has been seeking the best possible deal for his country of 46 million but faces calls to resign.