Russia Claims Ukraine Soldiers Made Into 'Monsters' by Secret Experiments
Russian officials claimed on Monday that Ukrainian soldiers have been turned into "monsters" in "secret experiments" in biological laboratories in Ukraine funded by the United States government.
Vice-speakers of Russia's Federation Council and the State Duma, Konstantin Kosachev and Irina Yarovaya made the remarks after a regular meeting of a parliamentary commission that was created in March to probe the activities of American biological laboratories on Ukrainian territory, state media outlet Kommersant reported.
According to Kosachev and Yarovaya, the co-chairs of the commission, blood analysis of Ukrainian servicemen showed that they had been subjected to "secret experiments," which transformed them into "the most cruel monsters."
Speaking to reporters after the meeting on Monday, Kosachev claimed that experiments were conducted on the Ukrainian soldiers and that experiments on "extremely dangerous diseases" were also carried out on Ukrainian territory "which under certain circumstances could be distributed for military purposes."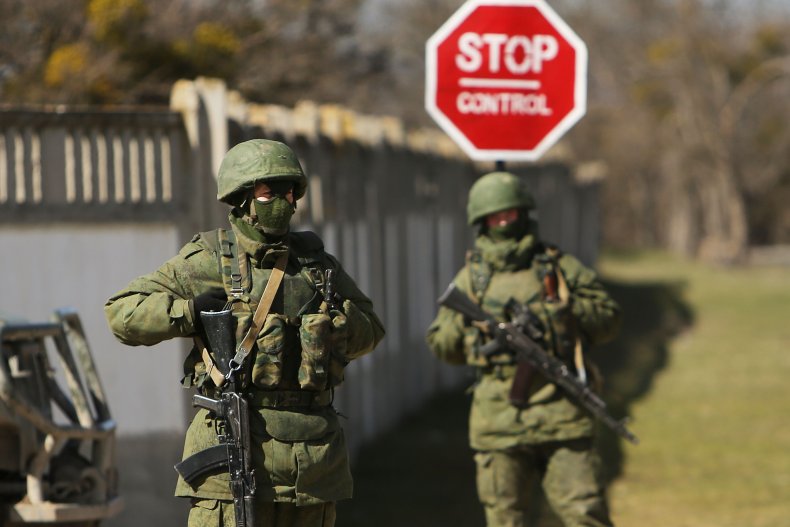 Kosachev alleged that blood samples from captured Ukrainian servicemen showed that "for a number of diseases, including those atypical for Ukrainian territory, the content of the relevant substances is several times higher than the permissible norms."
Yarovaya said blood analysis found traces of drugs, hepatitis A and the West Nile virus, which causes West Nile fever.
The pair offered no evidence to back up their claims. The Russian allegations are unverified and Newsweek has reached out to Russian and Ukrainian authorities for comment.
Speaking to Kommersant, a Russian geneticist, Kirill Volkov, noted that the diseases listed by the vice speaker of the State Duma are typical for the region. He also noted that subtropical diseases are now spreading in the southern regions of Russia and that they may well be more pronounced in Ukraine.
Volkov said the pair's claims were exaggerated.
The claims come after Russian officials on March 6 pushed the false narrative that Ukraine is developing biological weapons with funding from the U.S.
Russia's defense ministry claimed it had obtained evidence Ukraine and the U.S. had collaborated to develop biological weapons, Newsweek previously reported. Major General Igor Konashenkov alleged that pathogens for deadly diseases such as the plague, anthrax and cholera were being created to be used for biological warfare in Ukrainian laboratories funded by the U.S. Department of Defense (DOD).
Fact-checking website Snopes noted that Russia has since 2018 pushed the false claim that there are such laboratories in Ukraine developing germ warfare capabilities.
The DOD and the Ukraine Ministry of Health have, since 1991, been part of the Cooperative Threat Reduction Program, which seeks to reduce the threat of weapons of mass destruction following the collapse of the Soviet Union.
On Saturday, Ukrainian President Volodymyr Zelensky warned Ukrainians to be wary of Russian propaganda, disinformation and the "media terror" surrounding the Russian invasion.
Russian officials and propagandists are creating "horror stories" and twisting information, he said.
"This sometimes takes on simply unhealthy forms when social networks and websites deliberately stuff fake information from Russia, the purpose of which is only one—to add media terror to the missile and artillery terror against our country," Zelensky said.
"It is obvious that any missiles and artillery of Russia will not succeed in breaking our unity and knocking us off our path," he added. "And it should be equally obvious that Ukrainian unity cannot be broken by lies or intimidation, fake information or conspiracy theories."