Ukraine Forces Reportedly Kill Russia General Andrei Sukhovetsky in Blow to Invading Army
A top Russian military figure has been killed in the war in Ukraine according to local news outlets citing a social media post by his colleague.
Ukrainian news outlets were reporting that Andrei Sukhovetsky, deputy commander of the 41st Combined Arms Army of the Central Military District, had been killed on Wednesday.
Media outlets cited a post on VKontakte announcing the death, written by Sergei Chipilev, a deputy of the Russian veterans group, Combat Brotherhood.
"It is with great sorrow that we learned of the tragic news about the death of our friend, Major General Andrei Aleksandrovich Sukhovetsky, on the territory of Ukraine during a special operation," his post said, without specifying the circumstances.
Christo Grozev, executive director of fact-checking website Bellingcat, tweeted news of the death, adding that if confirmed it would be a "major demotivator" for Russian forces.
Ukrainian outlet Fakti reported that Sukhovetsky had been in his latest role since October 2021 and had been based in Novosibirsk.
News of the death was also reported by Russian media outlets. Lenta.ru carried the story, while Alexander Kots, a correspondent for the mass circulation tabloid Komsomolskaya Pravda, described the death in a post on social network Telegram.
Radio Liberty reported the death and said Sukhovetsky had previously commanded the 7th Airborne Assault Division in Novorossiysk for three years.
The Ukrainian-language service of the outlet said he had twice participated in the Victory Parade on Red Square and had been awarded two Orders of Courage. He had also taken part in Russian campaigns in the North Caucasus, Abkhazia and Syria, as well as being decorated for his role in the annexation of Crimea.
Newsweek has contacted Russia's defense ministry for comment, which on Wednesday gave its first tally of Russian casualties.
Moscow said that 498 Russian soldiers had died and another 1,597 had been wounded since the beginning of the war, according to state-run RIA Novosti. Kyiv has claimed that the Russian death toll is at least ten times higher.
Moscow also said that more than 2,870 Ukrainian soldiers and "nationalists" had been killed and about 3,700 wounded, although the numbers have not been independently verified.
In a defiant televised address on Thursday morning, Ukrainian President Volodymyr Zelensky said that Russia "will pay back the full price for everything that you did to us, to our country and to every Ukrainian."
"We will rebuild every house, every street, every city," he said.
Follow our live blog for updates on the Russia-Ukraine conflict.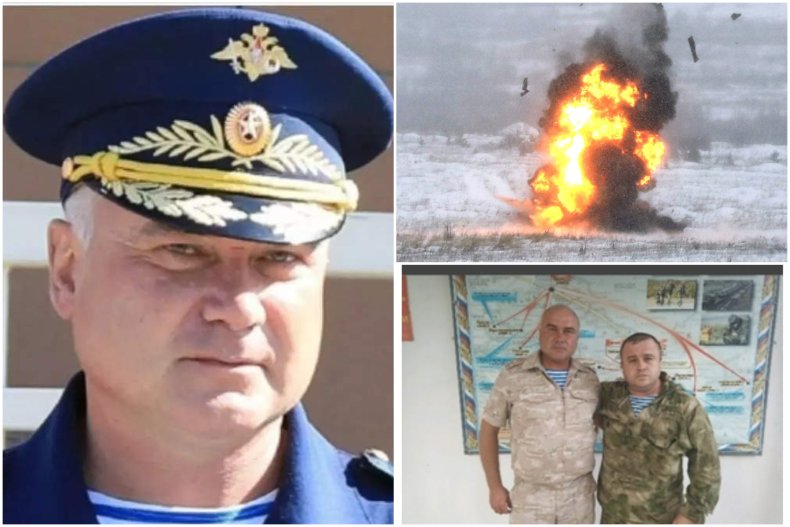 Update 03/03/22, 7:50 a.m. ET: This article has been updated with further information.