Video Shows Russian T-90 Proryv Tank Obliterated in Ukrainian Strike
A video clip purporting to show one of Russia's advanced tanks being blown up by Ukrainian forces has gone viral.
"Soldiers of the special squad Code 9.2. together with 3027 National Guards brigade tracked down and destroyed the pride of Russian defense industry—the T90 Proryv tank," tweeted Ukrainian internal affairs advisor Anton Gerashchenko next to the video.
To the soundtrack of Louis Armstrong's "What a Wonderful World", the video lasting one minute and 17 seconds shows a tank being targeted from the air. The clip, which as of Saturday had received 142,000 views, ends with a montage of a Russian news report touting tank deliveries to Ukraine, and the aftermath of the exploded T-90.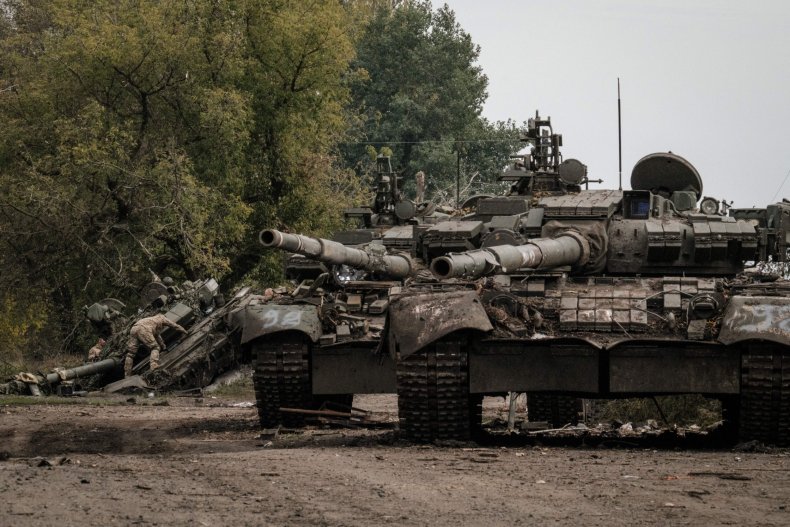 Russia has touted its T-90M as one of the best main battle tanks (MBTs) in the world. Also referred to as "Proryv-3" (Breakthrough-3), the MBT is an improved version of the T-90 tank and was first publicly revealed in 2017.
Both models, of which the army has several hundred, are superior to the Soviet tanks that both Russian and Ukrainian forces are using in the war.
The T-90M has a number of upgrades from its predecessors, such as better armor protection, a countermeasures system, and stronger gun power. It is armed with an autoloader-serviced 125mm 2А46М main gun and has a firing range of over three miles in its basic form.
However, as military publication 1945 reported, the Russian tanks have fallen victim to anti-tank guided missiles as well as "innovative tactics" by Ukrainian forces using Javelin anti-tank guided missiles (ATGMs).
Russian media outlets have reported that the T-90Ms show the resilience of the country's arms industry, and the discovery that they contained French technology suggests that sanctions might mean future supply chain issues.
Ukrainian news outlet Ukrinform reported that the first recorded hit on a T-90 since the start of the war was on May 4, 2022, in Staryi Saltiv, Kharmiv.
Since the start of the full-scale invasion, Ukrainian forces have destroyed at least 15 T-90M tanks, according to Oryx, a website tracking equipment losses in the war using open-source intelligence. Russia has also lost 33 T-90As, 1 T-90AK, and 6 T-90S tanks.
It comes as Ukraine's armed forces reported on Saturday that over the previous 24 hours, Russia had suffered the loss of 880 troops, taking the total number of fatalities, according to Kyiv, to 164,200.
Western estimates of Russian losses are much lower and Moscow has not updated its tally since the end of September when it said it had lost just under 6,000 troops.
Newsweek has contacted the Russian defense ministry for comment.