Vladimir Putin Paints Rosy Picture of Russia's Crumbling Economy
Russian President Vladimir Putin gave a positive spin on some aspects of Russia's economy despite the prospect of sanctions imposed after his invasion of Ukraine hitting his country hard in the coming months.
While there is uncertainty about the impact of isolating Russia from the world financial system as punishment for his war, Putin said unemployment was low, inflation had been curbed and the rouble had stabilized.
Last week, Germany's Vice-Chancellor Robert Habeck said Putin "can't keep going much longer" due to sanctions which include no longer buying Russian energy, freezing access to some of its foreign reserves and kicking it out of the SWIFT global banking system. On Tuesday, the U.S. Treasury said it would restrict investors from buying Russia's debt in the latest step to sanction the Kremlin for the war.
But Putin gave a more upbeat assessment of the economy in a video meeting with officials on Tuesday that included Prime Minister Mikhail Mishustin and Central Bank head Elvira Nabiullina.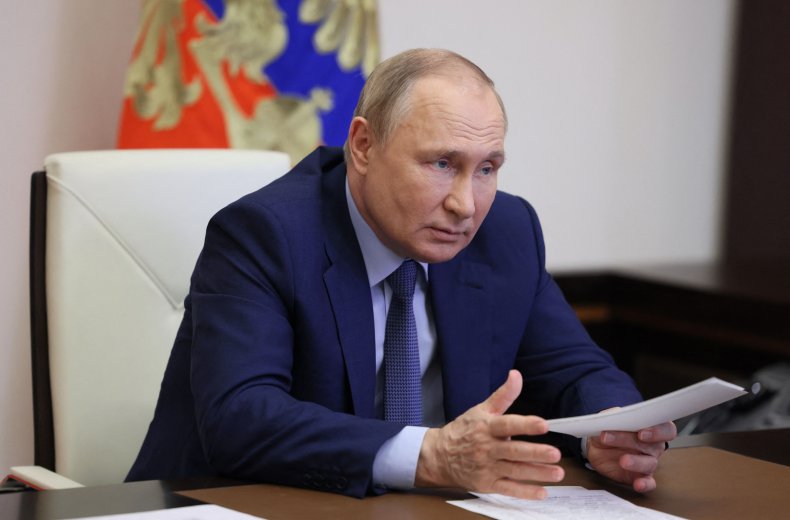 Putin hailed growth in the agriculture and construction sectors which had played "a decisive role" for the development of the country's regions.
The Russian leader also praised a four percent unemployment rate in April for being at a historically low level, which he described as "a very serious achievement," in the video available on the Kremlin website.
He said that as of May 27, annual inflation was 17.4 percent, but that in the second half of May, "the rise in prices has generally stopped, and now inflation is at zero." He also touted an increase in retail trade and said that pensions, the minimum wage had gone up by 10 percent and other social benefits had increased.
Russia's tightly controlled media are reporting on the impact of sanctions. The government newspaper Rossiyskaya Gazeta reported Monday that sanctions are impacting the supply of automotive parts and so airbags, anti-lock braking systems and other safety features will no longer be mandatory for Russian-produced cars.
Meanwhile, the mass circulation newspaper Moskovsky Komsomolets reported that rising food prices were hurting Russians with fruit and vegetables seeing sharp price rises.
However, Putin did admit on Tuesday there had been a "noticeable decline" in the automotive industry and oil refining. Other industries like ferrous metallurgy could face "a significant decline in production in the medium term."
He called for ministers to draw up new budget rules by the end of July to boost growth and help protect the economy from a downturn and "ensure the stability of public finances."
Putin did not detail what the new rules would be but said there needed to be an increase in corporate and mortgage lending. This suggested guidelines could be further relaxed to allow for more state funding to revive economic activity, according to Reuters.
While experts have said Russia faces tough times, it is still getting an estimated $800 million per day from energy sales. Its finance ministry said that it could get as much as $6.37 billion in additional oil and gas revenues in June, due to an increase in commodity prices.
Russia is boosting exports to India and China, although it's doubted that the additional markets Moscow insists it can find would offset the commodities that Europe would no longer accept.