'I'm an American Chef, in Ukraine I Saw The Heartbreak Russia Has Caused' 
If you live in Ukraine—or have traveled to the country in the past month as I have—you become part of the war. And if you are human, Ukraine will become part of you.
I began to understand Ukraine, and the everyday people who live, work, fight and struggle collectively on the front lines and behind the scenes of the war, on my first trip to Poland in April 2022. I volunteered to greet Ukrainian refugees at the border with a warm meal. After seeing the daily attacks on the news, this was the least I could do. My Polish grandparents, who were from Częstochowa, would have done the same. Upon arriving, there's no time to let the sadness and shock sink in. When there are thousands who need your help, any help, there's nothing else to do but get to work.
As a chef working in kitchens from New York to Paris, I have seen the healing power of food. In war, a home cooked meal offers much more than a full stomach, but a sense of comfort and community.
Almost a year into the war, in early February 2023, I was back at the border in Przemysl waiting to enter Ukraine. The same reasons pulled me back here: Ukrainian's were suffering daily. I couldn't watch from home and do nothing.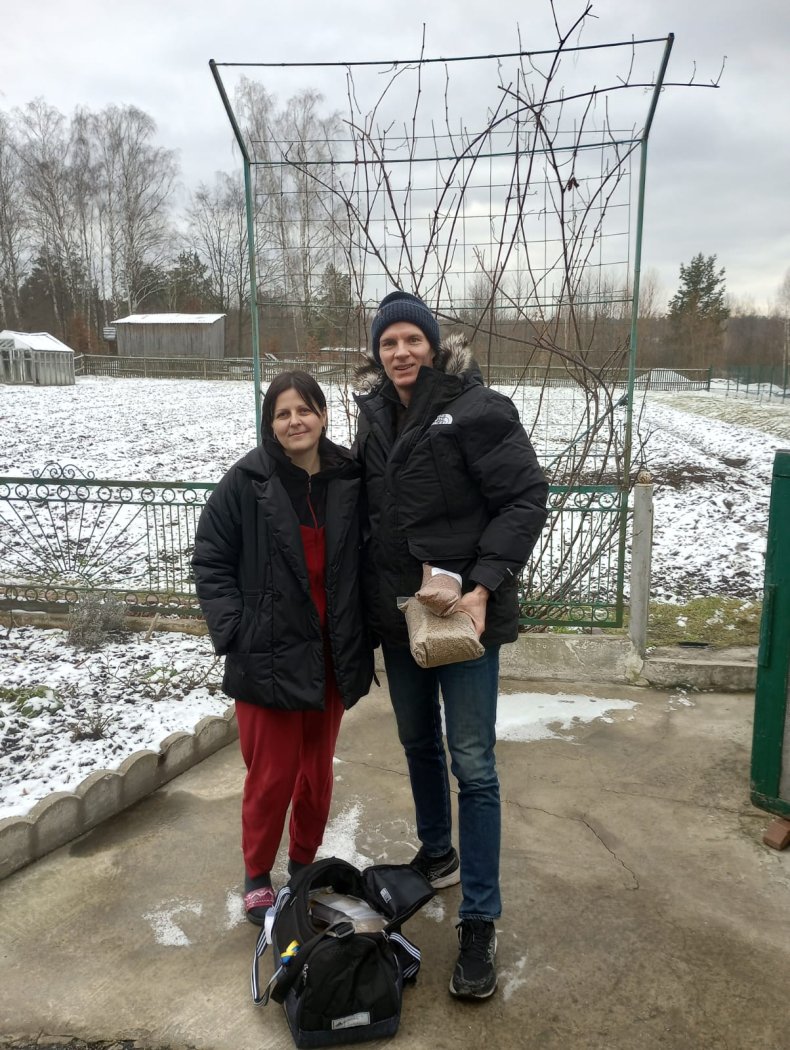 In the cold, dark, middle of the night, volunteers poured chai tea and carried bags for refugees. It was a small act of kindness for anyone nearing the end of a long journey, and to be honest, after 20 hours of travel with six more to go toting 130 pounds of supplies, the gesture was restorative.
I returned to Ukraine once again to bring aid, but this time, I am working with other chefs who are providing support and salvation through food. What I didn't expect was to meet so many of them and to learn how food is helping win the war on humanity.
I saw it first-hand when I arrived in Lviv on January 25 to work alongside Ukraine's most famous chef Ivegen Klopentenko. At his restaurant, we prepared traditional meals together and in one afternoon we fed nearly 300 men and women who are displaced from the war and living in temporary housing nearby. For them, it was more than food. It was nourishment for the spirit and soul. They thanked me in both broken English and in Ukrainian and kids fist bumped me as they passed through the line. Later tonight, they'd go to sleep in small pods, like metal storage units, with old cardboard boxes as doormats. But with full bellies.
The next day, on the outskirts of Lviv in the city of Stryi, I met a woman, Svitlana, who cooks meals for children in the basement of an orphanage. As the war lingers, she preps meals, like borsht, from scratch with sandbags placed near the entrance of the kitchen to protect against incoming attacks.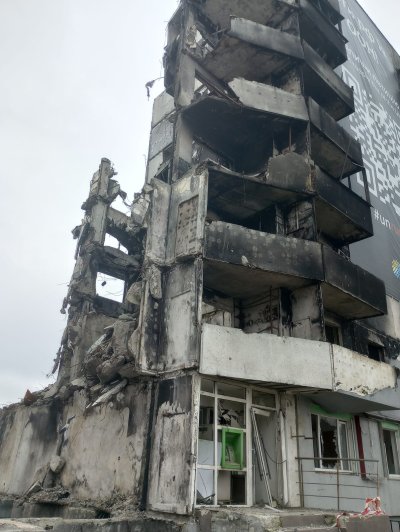 I met others mostly in quiet places: on trains, during walks in Kyiv and over a cup of tea. Those conversations hurt. One man, Roman, told me that he lost his brother in a night battle. He goes around collecting the remnants of Russian bomb shells and welds them into maps of Ukraine. His goal is to sell artwork to raise money for night vision goggles for soldiers, but he struggles because one of his workshops was destroyed in the war.
On an overnight train, I sat next to a soldier who was on leave to see her 5-year-old son for his birthday. She cried because it's been almost a year since they have seen each other, and she failed to get him a gift in time. Within the same hour, a mother and 2-year-old daughter boarded the train after a long hug with their husband and father who was in military gear. They waved goodbye as the train departed. In the silence of the night, I fought back tears as she consoled her daughter and finally put her to sleep. Once we arrived at the train station, we were greeted again with chai tea. I slowly started to regain my emotions.
You cannot travel far without seeing signs of war. Uniformed men and women, sandbags, military hedgehogs, shattered structures and signs restricting access. What you don't see, you hear. Diesel generators, power surges, air sirens. Despite the disruption, people carry on with life as best they can.
Another volunteer I met, Olga, feeds hundreds of wounded soldiers with three meals a day. She works with a team of three and preps the meals in a large hospital in Stryi that treats injured soldiers. Her hobby since the war began is to bake cakes and send them to soldiers on the front lines for their birthdays.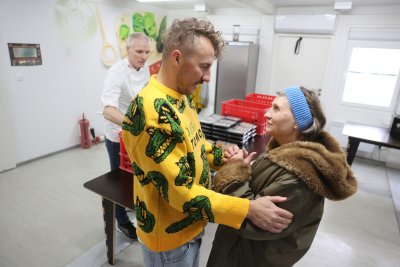 Chefs are fighting back, one meal at a time. And while food alone may not be enough to win the war in Ukraine, it is having a profound impact on the fight. It is fueling the Ukrainian soldiers and civilians alike. There was not a place I went, from Stryi to Burtyn and Kyiv, where I wasn't greeted with borsht., where I wasn't greeted with borsht. And there was not a moment while visiting that my soul did not feel nourished. I was full.
I'm home for now, but Ukraine is with me. There is more work to be done.
So, if you're reading this in America, or anywhere else in the world, I would say this: Ask yourself—knowing that a kind gesture, from a warm cup of tea to a small donation, can make all the difference in the world right now—what you may be able to do. It is time for us to come together to support Ukraine in any way we can, not just to win a war, but to regain humanity.
Brandon Chrostowski is an American chef, restauranteur, humanitarian, and CEO and founder of EDWINS restaurant. For more information on supporting Ukraine, visit unitedforukraine.org.
All views expressed in this article are the author's own.