What Happened in the Russia-Ukraine Conflict This Week
Reports of heavy losses for both Moscow and Kyiv have dominated coverage of the ongoing war in Ukraine this week, as the conflict grinds on into its 13th month.
The protracted battle for the Donetsk city of Bakhmut has dominated coverage. There have also been waves of missile strikes hitting various regions of Ukraine in what Moscow called an act of retaliation.
Looking back at this week's Ukraine war coverage, Newsweek has rounded up the key events of the conflict in the past seven days.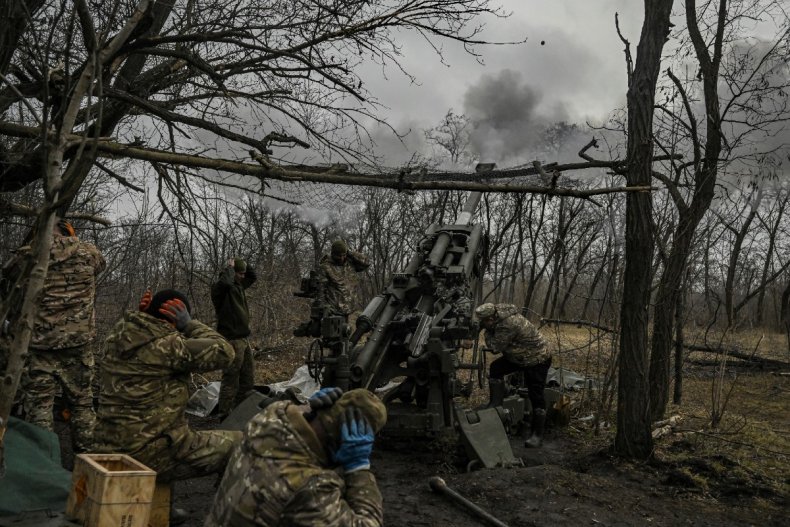 Bakhmut
Fierce fighting has continued in Bakhmut. The city has endured months of constant bombardment and violence as Moscow presses to take control of the eastern settlement.
On Sunday, Russian state media said air-assault groups fighting for Moscow had secured "advantageous positions" in an industrial area of Bakhmut's metal-processing plant. The previous day, the Institute for the Study of War (ISW) think tank said that Russian Wagner mercenary fighters were "likely becoming increasingly pinned in urban areas" such as this industrial complex.
Ukraine's foreign minister, Dmytro Kuleba, reaffirmed Ukraine's commitment to defending Bakhmut on Sunday. He said that further settlements would "suffer the same fate" as the destroyed city, should it fall to Moscow. The General Staff of Ukraine's Armed Forces reported on Sunday that Russian troops continued to "storm" the Donetsk settlement, but that Ukraine's defense was holding.
As of Wednesday, the ISW said that Russia controlled around half of the city. On Saturday, Britain's defense ministry said the Bakhmutka River, flowing through the city, had become the new front line.
But both sides have claimed huge casualty numbers over the weekend. Serhiy Cherevaty, a spokesperson for Ukraine's military, said on Saturday that 221 Russian troops fighting for Moscow had been killed, and another 300 wounded, in the fighting for Bakhmut over the previous 24 hours.
On Sunday, Russia's defense ministry said more than 220 Ukrainian soldiers had died in one day along the Donetsk front line. However, it did not specify how many of these reported casualties were in Bakhmut.
Russia Launches 'Massive' Missile and Drone Attacks
On Thursday morning, Ukrainian officials reported a "massive missile attack" on critical infrastructure and residential targets across the country.
The General Staff of Ukraine's Armed Forces said Moscow's forces had carried out 81 missile strikes, including six launches of the "Kinzhal" hypersonic missiles.
Ukraine is not able to intercept the high-tech "Kinzhal" missiles, which are designed to be launched from MiG-31 fighter jets.
"This is the first time we have seen 'Kinzhals' used in these numbers," military and technology expert David Hambling told Newsweek.
Shortly after the attacks, Ukraine's defense ministry appealed for more air-defense systems from its allies.
Moscow said it was a "retaliatory strike," following what it called a "terrorist attack" in the Bryansk region, which is Russian territory.
Crimea Debate Heats Up
Eyes are increasingly turning towards the annexed peninsula of Crimea, which Moscow has controlled since 2014. Ukrainian President Volodymyr Zelensky has called the territory "our land" and "our people," adding that "by returning Crimea, we will restore peace."
However, Crimea is considered by some to be a "red line" for Putin, and one that could threaten his personal position in the Kremlin.
On Friday, Sergey Aksyonov, who has led the Moscow-controlled administration in Crimea for the past nine years, said the war could soon spill over into the peninsula.
"God protects the safe. And I always stand in the position: if you want peace, prepare for war," Aksyonov said, according to the state news agency Ria Novosti.
"Therefore, we'd better be ready. Both the Crimeans and all of Russia will sleep peacefully in this regard," Aksyonov added.
However, Crimea is a "festering wound" for Ukrainian society, experts told Newsweek this week.
February 24, 2022, "changed everything," according to Rory Finnin, an associate professor of Ukrainian Studies at the University of Cambridge, U.K.
Russia "weaponized Crimea" to turn Ukraine's own territory into a "launchpad" to destroy its very identity as a nation, Finnin added.
But with Kyiv's commitment to recapture the peninsula, it could be just a matter of time until the "red line" of Crimea is tested.
Russian State TV Shifts Tone
Russian state television has appeared less confident in the Kremlin's approach to the ongoing war in Ukraine this week.
"We clearly see all current shortcomings of the nation, not of the Armed Forces," one state-media commentator said on March 6. Television anchor, Vladimir Solovyov, also questioned whether Russia can go toe-to-toe with Kyiv's NATO backers.
"Can our army, in its current state, with its current numbers of people and with our military-industrial complex, fulfill its goals—which are not about the war against Ukraine, which does not exist—but against NATO?" Solovyov asked.
Another state-media guest wondered on air whether the Kremlin's leadership, or anyone in power in Moscow, will live to see the end to the war.
"If we keep proceeding in this manner and at this speed, you and I won't live long enough to see any successes," Sergey Mikheyev told guests, including Solovyov, in a clip posted to Twitter on March 6.
Protests in Georgia
On Tuesday, protests began in Tbilisi, the capital of Ukraine's neighbor Georgia. Unrest was sparked by a proposed new law. It would mean non-government organizations and media must register as "foreign agents" if they receive more than 20 percent of their funding from abroad.
Protestors were heard chanting, "No to the Russian law," and Georgia's President Salome Zourabichvili called it legislation that "does not come out of nowhere."
"It is something dictated by Moscow," Zourabichvili said. "The Georgia that sees its future in Europe will not allow anyone to take away this future."
"We have decided to withdraw the law unconditionally," the ruling Georgian Dream party then said.
Kremlin spokesperson Dmitry Peskov told reporters that Moscow was "watching this very attentively and with great concern."
"The Kremlin did not inspire anything and has absolutely nothing to do with this," Peskov then added to state news agency Tass.