Ukraine Inflicts Deadliest Day of Fighting on Russia So Far: Report
Russian troops have suffered their biggest losses in a 24-hour period of the war in Ukraine so far, according to Kyiv sources.
In an update on Tuesday, the General Staff of the Armed Forces of Ukraine said that 1,030 Russian troops had been killed over the previous day. They updated their tally of Russian personnel killed since the war started on February 24, 2022, to 133,190.
The number of Russian dead could not be independently confirmed, and the toll released by Kyiv every day is higher than western estimates. Newsweek has contacted the Russian defense ministry for comment.
Russia has not updated its death toll since the end of September 2022, when it said that 5,937 of its troops had died. Moscow has also claimed that a huge number of Ukrainian troops have been killed.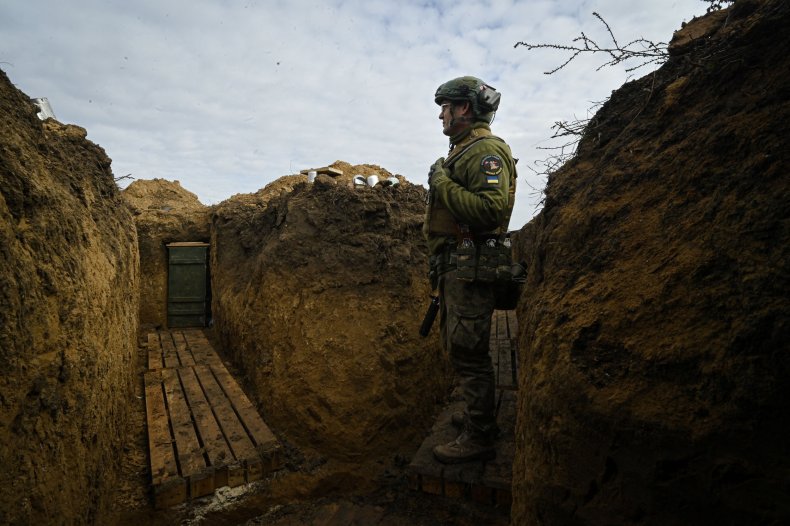 However, the high number of reported casualties fits accounts from both sides that the deadliest combat of the war is underway, amid little progress at the front and with a fierce fight for the city of Bakhmut in the Donetsk oblast raging on.
Ukraine's armed forces also claimed on Tuesday that Russia had lost 25 tanks in the previous two days—14 on Monday and 11 the previous day. Its tally of Russian tank losses over the course of the war now stands at 3,245, although the open intelligence monitoring site Oryx has put the number of Russian tank losses much lower at 1,678.
A video posted on the Ukrainian armed forces Facebook page on Tuesday showed what appeared to be Russian tanks being targeted by Ukrainian weapons systems, with smoke and fire billowing from the armored vehicles.
Kyiv has warned that Russia is planning a major offensive—as soon as this month—possibly to coincide with the war's first anniversary and before the arrival of western weapons, such as Abrams and Leopard tanks from the U.S. and Germany.
Although U.S. President Joe Biden has previously appeared to rule out supplying F-16 fighter jets, Ukraine's top national security official, Oleksiy Danilov, told CNN it was "only a matter of time" before Kyiv would get the American planes.
Vadym Skibitsky, deputy head of Ukrainian military intelligence, has predicted between 300,000 and 500,000 Russians will likely be drafted. This is in addition to the hundreds of thousands of conscripts drafted during the fall campaign announced by Vladimir Putin.
Ukrainian authorities said on Tuesday that Russian attacks were reported over the previous 24 hours in the east, south, and north of the country. According to local authorities, one person was killed, and 7 were wounded in the attacks.