Russia-Ukraine War Deciding 'Rules of This World,' Zelensky Warns in Plea
Ukrainian President Volodymyr Zelensky warned Saturday that the Russia-Ukraine war could set the future "rules for the world" in remarks at the Shangri-La Dialogue in Singapore.
The conflict, ordered in late February by Russian President Vladimir Putin, continues raging on in the Eastern European country. In light of the invasion, many world leaders have condemned Putin for lacking a justification for the conflict and violating Ukraine's sovereignty—putting him at odds with international norms.
Zelensky warned that these norms could be permanently threatened by the outcome of the war. He explained Saturday that the West's support of Ukraine does more than just protect his country's borders and independence, but that the future of global norms could hinge on their support.
"I am grateful for your support. But this support is not only for Ukraine, but for you as well," the Ukrainian president said, according to Reuters. "It is on the battlefields of Ukraine that the future rules of this world are being decided along with the boundaries of the possible."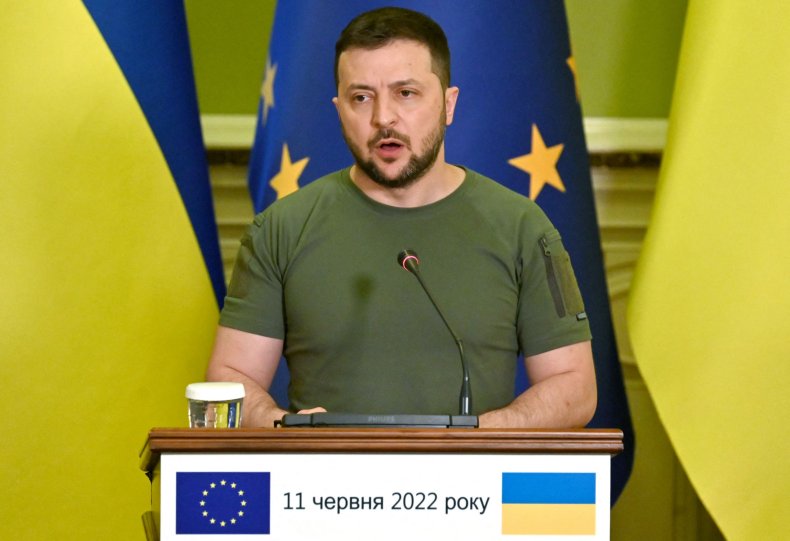 He made his remarks in a virtual speech, speaking to 575 delegates from 40 different countries during the conference, where world leaders discussed topics relating to Asian security issues, according to Reuters.
His sentiments were echoed by United States Defense Secretary Lloyd Austin during his own speech during the summit. Austin, representing the Biden administration, doubled down on his assertion that the "rules-based international order" matters across the globe.
He warned that Russia's invasion could be a "preview" to a "world of chaos and turmoil" where this order is not respected by powerful world leaders. Austin has been a vocal supporter of Ukraine throughout the conflict.
"Russia's invasion of Ukraine is what happens when oppressors trample the rules that protect us all," he said. "It's what happens when big powers decide that their imperial appetites matter more than the rights of their peaceful neighbors."
In further remarks on Saturday, Zelensky also sounded the alarm about the immediate worldwide impacts of Russia's invasion—specifically speaking about concerns related to the global food supply. Russian blockades in Ukrainian port cities along the Black Sea have prevented the export of grain, potentially exacerbating food shortages across the world, leaders have warned.
"If due to Russian blockades we are unable to export our foodstuffs, the world will face an acute and severe food crisis and famine in many countries in Asia and Africa," he said.
Russia, meanwhile, has defied the criticism and sought to justify its invasion by insisting that its goals with the war are not to take over Ukraine, but instead to "liberate" the Donbas region, which has a high number of Russian-speaking individuals.