Russian Platoon Refuses to Fight amid Military Chaos: 'Complete B*******'
A Russian soldier has revealed that he and his comrades are refusing to follow orders after a chaotic dispatch to the war in Ukraine.
In a video that has quickly gone viral, the unnamed man stands in front of a group of troops and says they are refusing to fight because of the high losses their platoon has suffered.
The soldier said he had been drafted for the territorial defense brigade in the Belgorod oblast, which borders Ukraine, and had been stationed in the town of Shebekino until March 2.
His platoon was then sent to Donetsk, but without being told that they were to join an assault brigade in the militia of the self-proclaimed Donetsk People's Republic.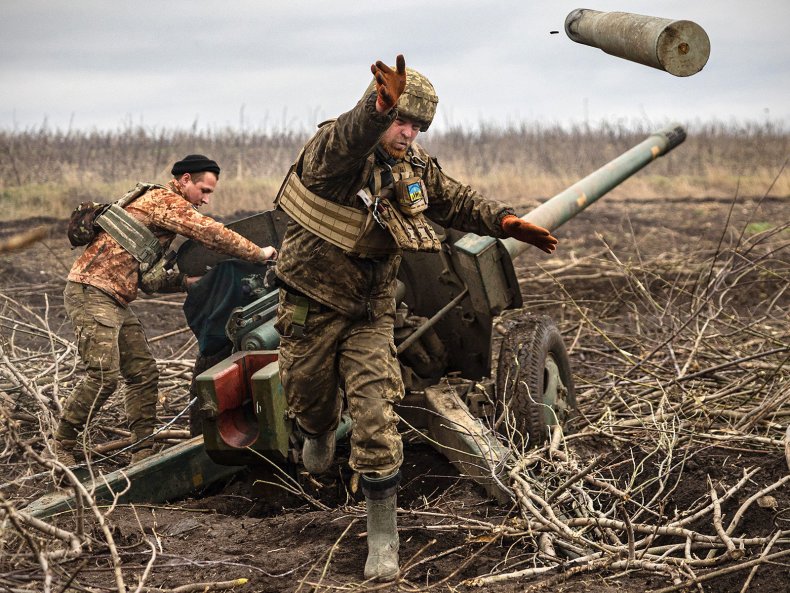 He said the troops had been transferred "without any orders, explanations" and were told to storm villages "without reconnaissance, without communications," or even maps.
The soldier, who described himself as a senior lieutenant, said he and his comrades "do not refuse to complete objectives but only as part of the Russian armed forces"—rather than serving under the Donetsk militia.
He added: "Personnel are dying, this is all that is left of my platoon, of the whole company. It is complete b*******."
His video, which has appeared in independent Russian media outlets and been tweeted by the account War Translated, had been watched more than 490,000 times as of Wednesday morning. Newsweek has not been able to independently verify the identity of the man.
Since President Vladimir Putin launched his full-scale invasion just over a year ago, a number of videos have been shared in which Russian troops complain of poor training, inadequate equipment and sometimes even a lack of proper orders.
More clips emerged after Putin's partial mobilization order in September, which was followed by numerous anecdotes about the drafting of Russians who were infirm.
Last month draftees in the 1439 regiment from the Irkutsk region recorded a video appeal to the president, saying they were being sent to be slaughtered after being placed under the command of Russian-backed separatists in Donetsk.
The wife of one conscript told media outlet SibReal that most of the men had been killed during an assault on the Donetsk town of Avdiivka.
Earlier this month, draftees from Russia's Orenburg region also complained about the militia of the Donetsk People's Republic sending them to the front lines as cannon fodder.
In a clip addressed to Putin, one of the men said his colleagues did not have the skills to take part in assaults and had poor artillery, communications and reconnaissance support.
"We are in a hopeless situation," he said. "We are considered expendable."
Newsweek has contacted the Russian defense ministry for comment.