Pope Francis reportedly referenced a sexual fetish in hitting back at those who have criticized him for not condemning Vladimir Putin by name over the Ukraine war.
The head of the Catholic Church has spoken repeatedly about the war since Russia's invasion on February 24 but has not named Putin directly. On April 6, he said "end this war" and "stop sowing death and destruction."
He has also condemned the murder of civilians, women and children in Bucha, but has has not explicitly blamed Putin. This has led some news outlets in his home country of Argentina to accuse him of not speaking out in favor of Ukraine.
The pope referred to this in responding to a letter sent to him by Argentine journalist Gustavo Sylvestre in which he wrote that reporters who accused him of having a pro-Putin stance were guilty of "disinformation, slander, defamation, and coprophilia."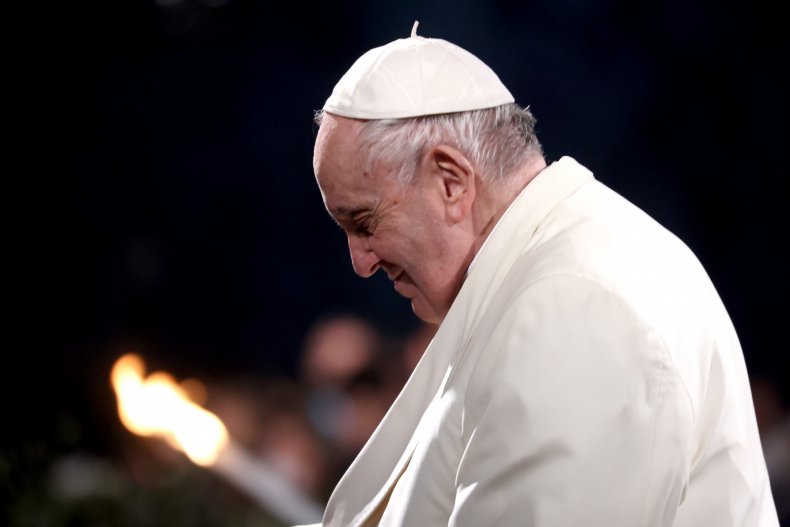 The Pope had previously used the word—a technical term for a sexual fetish involving human excrement—in his criticism of media for, he says, reporting scandalous or salacious stories, Catholic news outlet Crux reported.
Pope Francis wrote on April 7 that those accusing him of a pro-Putin stance could be being paid to write such articles.
He added that it was "sad" that "such a noble vocation" was being "soiled," according to a translation of the letter, which appeared on Sylvestre's blog and was reported by Crux.
It comes as the Vatican faced criticism over its decision to put a Ukrainian and a Russian side by side during a Good Friday celebration.
Archbishop Sviatoslav Shevchuk, the head of the Ukrainian Greek Catholic Church, said that it equated victims to their aggressors. Shevchuk and the Ukrainian government appealed to the Vatican to change its plans.
While other Ukrainians viewed the gesture as backing Russia's propaganda that Russians and Ukrainians are brothers and should be part of one nation, the Vatican said the gesture simply symbolized reconciliation, The Straits Times reported.
Newsweek has contacted the Kremlin and the Ukrainian Foreign Ministry for comment.
The Argentine Bishops' Conference has issued a statement in support of the pope's stance on the Ukraine war.
In a response by Bishop Ariel Torrado Mosconi of the Diocese of 9 de Julio said "he has been crystal clear and did not mince words: 'Crime', 'atrocity', 'barbarity', 'sacrilege' are forceful words."
"They reach the minds and hearts of the majorities much more than some of the convoluted and tendentious language of so many 'opinion makers' of the moment," the statement added, according to Crux.
The pope has actively tried to end or at least suspend the fighting, and called for an Easter truce. According to Vatican News, He has also spoken with Patriarch Kirill, the head of Russia's Orthodox Church who is a supporter of Putin.
Newsweek has contacted the Vatican for comment.