Russia vs. Ukraine War? Ukrainian President Says Neighbor Is Preparing Ground Attack
During a televised speech on Monday in which he outlined his case for imposing martial law, Ukraine's President Petro Poroshenko claimed that his country's intelligence service had evidence that Russia was preparing a ground attack.
Poroshenko's speech was given after Russia blocked three Ukrainian navy vessels from passing from the Black Sea into the Sea of Azov via the Kerch Strait on Sunday. The incident was a major escalation of the tensions that have existed between the two countries ever since Russia annexed the Crimean Peninsula from Ukraine and began backing armed separatists in the country in 2014. Poroshenko is close to imposing martial law in Ukraine, which would allow the military to run the country, saying it was necessary for Ukraine's security.
Many experts said Russia's attack on Ukrainian naval ships on Sunday was a game changer.
"The big story here is that Russia's armed forces, in broad daylight, launched an attack on Ukrainian navy ships. This crosses a new line. Moscow, of course, seized Crimea with its military, but under the guise of unidentified 'little green men.' Moscow has been conducting a not-quite-covert war in Donbass. Yes, there are thousands of Russian officers there and they control the fighting, but Moscow denies it. In this case, there is no denial," John Herbst, U.S. ambassador to Ukraine from 2003 to 2006, told Newsweek.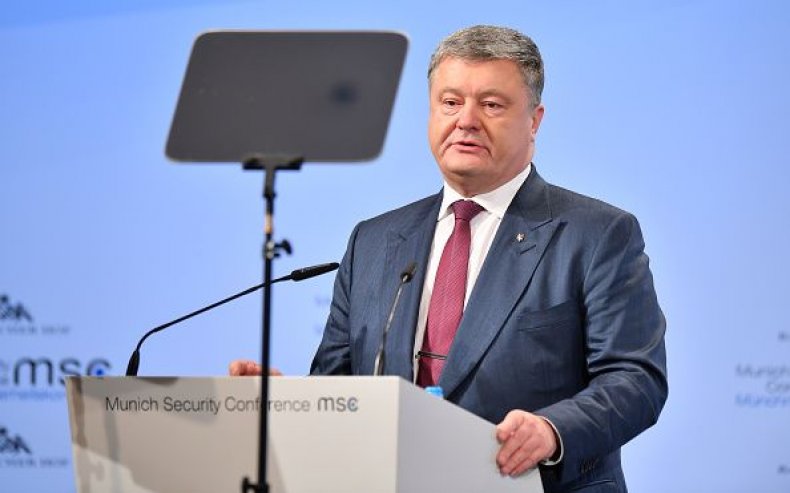 "The video from the Ukrainian interior minister shows the Russian ship ramming the Ukrainian tug whose dangerous maneuvers, Moscow's public line, were sailing in a straight line. And then Russian ships opened fire on Ukrainian ships, wounding six, and seized the vessels. This is an open act of aggression by one state against another," Herbst continued.
Poroshenko has yet to reveal details about a ground invasion.
Some critics alleged that the president was attempting to impose martial law in order to postpone elections scheduled for March 2019 and solidify his grip on power. But Poroshenko said Monday that he would be willing to reduce the number of days of martial law from 90 to 30 and that he would submit a draft bill to parliament to ensure that elections went forward as scheduled.
Members of the international community were preparing to meet Monday at the United Nations and at the North Atlantic Treaty Organization to discuss the conflict.
"The U.K. utterly condemns Russia's use of force against Ukrainian vessels entering the Sea of Azov. Once again, we see Russian contempt for international norms and Ukrainian sovereignty. Russia must release detained Ukrainian sailors and guarantee free passage through Kerch Strait," British foreign secretary Jeremy Hunt said in a statement Monday.