Russia-Ukraine War Makes Georgia's Security Imperative | Opinion
As international sanctions cripple the Russian economy, the Kremlin could become increasingly desperate in targeting Western economic interests near its borders. One major vulnerability are the energy arteries and transportation routes that connect the Caspian basin with Europe and bypass Russia. Major oil and gas pipelines traverse most of Georgia, a reliable U.S. ally, NATO partner and European Union (EU) aspirant whose territory is already partially occupied by Russian troops, and which must be afforded greater Western protection.
Georgia is a key transit state of non-Russian oil and gas to European countries, including the Baku-Tbilisi-Ceyhan and Baku-Tbilisi-Supsa oil pipelines, and the Southern Gas Corridor. The latter will deliver 16.2 bcm of natural gas to the EU and Turkey by the end of this year. Plans to double this volume will be speeded up because of Russia's war against Ukraine and replace up to 17 percent of current Russian gas deliveries to the EU and Turkey. These increasingly significant pipelines are under threat, as Russian forces occupying the nearby Tskhinvali region could rapidly capture them, sever the vital East-West Highway and effectively split Georgia in half.
Western countries are moving toward a comprehensive embargo on Russia's oil and gas exports to deprive Moscow of revenues that fuel its war against Ukraine. Georgia has been a vocal advocate for Ukraine by joining the international sanctions regime even while it faces renewed threats from the Russian army which already controls 20 percent of Georgian territory and positions tanks just 40 miles from Georgia's capital Tbilisi. In August 2008, Russia illegally seized the regions of Abkhazia and Tskhinvali (South Ossetia) from Georgia and declared them as independent republics, similarly to the Kremlin's moves in Ukraine's Donbas.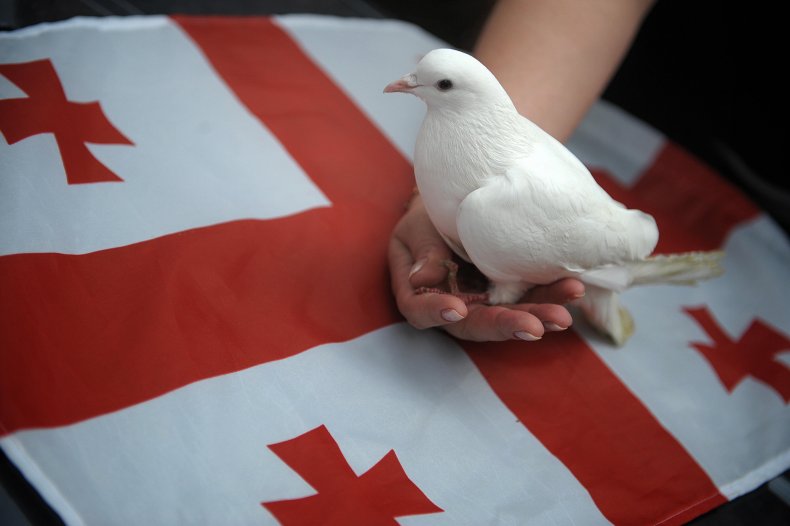 After its invasion of Georgia, Moscow did not face any significant Western sanctions even while it violated the peace treaty negotiated by EU representatives. Western failure to act in the face of Russia's aggression emboldened the Kremlin to plan its attacks on Ukraine. Tbilisi better than any capital understands the importance of imposing punishing sanctions to undermine aggression. The National Bank of Georgia (NBG) announced that it will operate in line with the significant financial sanctions imposed upon Russia by the international community. The government has advocated internationally for Ukraine's independence and territorial integrity, voted to expel Russia from the Council of Europe and is among 38 countries urging war crimes investigations in the International Criminal Court (ICC). To date, Georgia has sent approximately 140 tons of humanitarian aid to Ukraine.
All Georgian governments backed by overwhelming public support have made a firm commitment to integrate into Western structures. Georgia is part of the Associated Trio pact, signed with Ukraine and Moldova in May 2021, which has pressed for EU membership. In early March 2022, the three countries formally applied for EU membership. The integration process was launched in 2014 when Georgia and the EU signed an Association Agreement, and since then Tbilisi has implemented an extensive package of economic and legal reforms. Georgia's aspirations toward EU membership remains a consistent goal and the current government ensured it was adopted in the constitution.
However, the basis of economic development is national security, and each Georgian government has pursued a pathway to NATO membership through closer ties with the Alliance. It is imperative for the U.S. and NATO to prevent Moscow from engineering new regional conflicts, and Georgia presents an ideal opportunity to deter Moscow through stronger commitments to the country's defense. This year marks 30 years since the establishment of diplomatic relations between the U.S. and Georgia. Prime Minister Irakli Garibashvili has underscored that Georgia is committed to strengthening the strategic partnership agreement signed in 2009. Several new initiatives can be pursued including the enhancement of Georgia's military capabilities, bilateral free trade agreements and more active support for the country's integration into Western institutions.
Washington and Brussels must help Georgia develop its energy infrastructure, ports, airports and transportation routes that are critical to Europe and the West. As Russia weakens in the wake of onerous international sanctions, Washington and Brussels will have greater opportunities to protect Georgia's security and in due time to assist with peacefully restoring Georgian sovereignty in its internationally recognized borders.
Janusz Bugajski is a senior fellow at the Jamestown Foundation in Washington, D.C. He is the co-author of Eurasian Disunion: Russia's Vulnerable Flanks with Margarita Assenova. His new book, Failed State: A Guide to Russia's Rupture, will be published in May.
The views expressed in this article are the writer's own.