More Russian Men Could Be Called Up to Fight in Ukraine, Reports Suggest
Russia could round up more men to fight in Ukraine under President Vladimir Putin's "partial mobilization" decree, according to an assessment by the British Ministry of Defence.
Nearly a year into the invasion of Ukraine, which began on February 24, the latest British intelligence update on the conflict suggests that Putin is likely eyeing a fresh mobilization drive.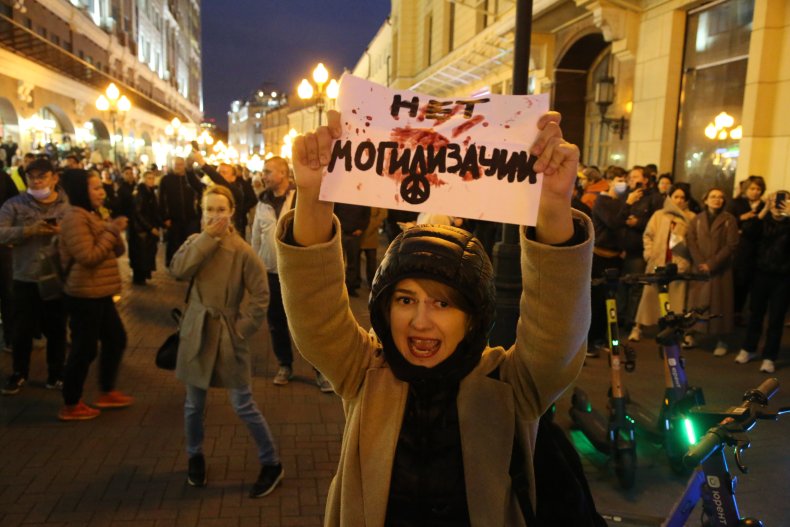 Putin announced a "partial" military mobilization on September 21, 2022, with his defense minister, Sergei Shoigu, saying that Russia would be targeting 300,000 reservists and ex-military personnel with "certain military specialties and relevant experience."
However, the figure in Putin's decree wasn't disclosed to the public, prompting many to speculate that the real number could be much higher.
The Kremlin said on October 31 that the partial mobilization had ended. A U.S. think tank, the Institute for the Study of War (ISW), has previously assessed, however, that Russia is "covertly" mobilizing troops.
The British defense ministry said on Monday that Russian authorities are "likely keeping open the option of another round of call-ups" under Putin's "partial mobilization."
It noted that on January 22, local media reported that Russian border guards were preventing dual passport holding Kyrgyz migrant workers from leaving Russia, telling the men that their names were on "mobilization lists."
And the following day, Kremlin Russian presidential spokesperson Dmitry Peskov said that the decree on "partial mobilization" continues to remain in force, claiming the decree remained necessary for supporting the work of the Russian army.
"Observers had questioned why the measure had not been formally rescinded," the ministry noted.
"The Russian leadership highly likely continues to search for ways to meet the high number of personnel required to resource any future major offensive in Ukraine, while minimising domestic dissent," the intelligence update concluded.
The ISW similarly assessed earlier this month that Putin may be preparing to announce a second mobilization drive. The Kremlin has so far denied any such reports.
Hundreds of thousands of Russian citizens fled the country after the September 21 order, traveling across the border to neighboring countries, such as Georgia, Finland, Kazakhstan and Mongolia, to avoid being conscripted. It also sparked nationwide protests.
The exodus included officials serving in government offices, according to independent Russian news outlet Nestka, which found in late October that nearly a third of Moscow officials in the mayor's office had fled Russia within a month.
Amid reports that Putin is preparing for a fresh wave of mobilization, Russian lawmakers are proposing to place restrictions on citizens attempting to leave the country.
On January 23, Yevgeny Moskvichev, the head of Russia's State Duma Committee on Transport and Infrastructure Development, put forward amendments to a transport law that would make it a requirement for Russian citizens, and others, to book a time and place in advance to cross the border.
If the bill is passed by the State Duma, it will go into effect on March 1.
Newsweek has contacted Russia's foreign ministry for comment.
Do you have a tip on a world news story that Newsweek should be covering? Do you have a question about the Russia-Ukraine war? Let us know via worldnews@newsweek.com.