Russia Confident Ukraine Lacks Strength to Retake Crimea: Senator
As Christmas approaches and the blood-soaked Russia-Ukraine war rages on, attention is increasingly turning to Crimea as the next key battleground.
Emboldened by some remarkable victories against the Russian aggressors, Ukrainian hopes have been raised that their country may even be able to retake the fiercely contested region of Crimea.
The area, a peninsula on the coast of the Black Sea, was illegally annexed by Russia in 2014. And now, instead of hoping to reset the dial back to the way things were in February this year, when Russia invaded the country, it seems Ukraine wants to go even further by reclaiming what was theirs eight years ago.
On Sunday, top Ukrainian aide Andriy Yermak, head of the office of President Volodymyr Zelensky, vowed to take the peninsula back under Ukrainian control. He signaled that a military campaign in Crimea was set to unfold, although he wouldn't confirm when it was likely to begin, during a virtual interview with journalists.
But his claims were directly addressed and summarily dismissed by a Russian senator on Monday, who insisted Ukraine had no chance of regaining the region.
The chairman of the Federation Council Committee on Defense and Security, Viktor Bondarev, addressed the claims on his Telegram social media channel. A translation of his words, reported by the Moscow-based Russian news website Lenta, quoted him as saying: "Ukraine has neither the resources, nor the military force, nor the support of the Crimeans for the promised offensive on the peninsula. The West will also make no real effort to help Ukraine in this adventure. Therefore, the Kyiv authorities will not go beyond the level of 'announcement.'"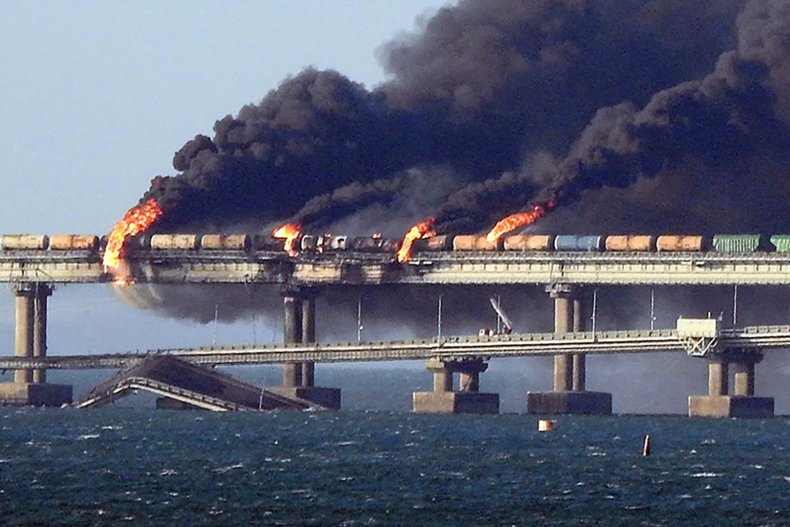 The senator also said Crimeans themselves had voted to remain part of Russia. He was referring to a referendum that was considered an illegal sham and wasn't recognized internationally.
The claims and counter-claims centering on Crimea come as Zelensky reiterated on Thursday that Crimea is "part of our country." He suggested that taking it back from Russia was the only way the war could end.
The comments echoed those he made in a speech in August, in which he said: "This war, which began with Russia's occupation of our Crimea, with an attempt to seize Donbas, must end precisely there—in the liberated Crimea, in the liberated cities of Donbas, with our troops reaching the state border of Ukraine. We have always kept this goal in mind. We do not forget about it.
"This will happen. This is ours. And just as our society understands it, I want the occupiers to understand it, too. There will be no place for them on Ukrainian land... The occupiers should know: we will oust them to the border. To our border, the line of which has not changed. The invaders know it well."
And Ukrainian officials are also publicly suggesting the war will soon make its way as far as Crimea.
Tamila Tasheva, Zelensky's highest representative for Crimea, is planning for a Ukrainian takeover, according to a report in The Guardian last month. "This is moment X. Right now everything is happening in a way that it feels inevitable," she said. "It may not happen tomorrow, but I think it will be much quicker than I thought a year ago."
New Defenses
Despite the airy dismissal issued by Bondarev, insisting that Russia doesn't consider Ukraine to be a threat there, it's a vow that Russian President Vladimir Putin appears to be taking seriously. His troops have built new trench systems around the Crimea border as they prepare to dig in and fight.
And, confusingly, although Lenta reported Russia's State Duma deputy Andrei Gurulev as saying Ukrainians' threats to seize Crimea were "fantasies," he also said that Russia should be ready for a serious defense of the region. The defense lines were already being equipped, he added.
Ukraine has been boosted by a string of victories in battles in recent weeks. Putin's troops were forced to make a humiliating retreat from the Kherson region earlier this month, while Ukrainian forces celebrated in October after the Kerch bridge, a strategically vital link connecting Russia to Russian-occupied Crimea, was damaged.
Orysia Lutsevych, a research fellow and manager of the Ukraine Forum in the Russia and Eurasia Programme at the British-based international affairs think tank Chatham House, told Newsweek: "Kyiv will be pushing to undermine Moscow's hold on Crimea. This is already happening and is expressed by attacks on military airports in Saky, multiple explosions of munition storages, the naval drone attack on Sevastopol bay and of course, damage to Kerch Bridge.
"Threatening Russian positions in Crimea is one pathway to force the Kremlin to the negotiating table that included discussion about the future of the peninsula. They may deem it a better alternative than a military defeat of their positions in Crimea."
Newsweek has reached out to Russia's foreign ministry and Ukraine's ministry of defense for comment.