Russian State TV Told 'We Need to Admit That We Could Lose'
A Russian filmmaker has stunned state TV pundits by concluding it was important the country admitted it could lose the war to Ukraine.
In a clip that has now gone viral on social media, Karen Shakhnazarov, director general of studio Mosfilm, said individuals arguing that the West was about to fall or that Ukrainian President Volodymyr Zelensky was simply a puppet were "deluding" themselves.
This attitude is rarely seen on Russian state TV as guests regularly predict the demise of Western nations like the U.S., the U.K., France and Germany, allies who have committed to supporting Ukraine's war effort.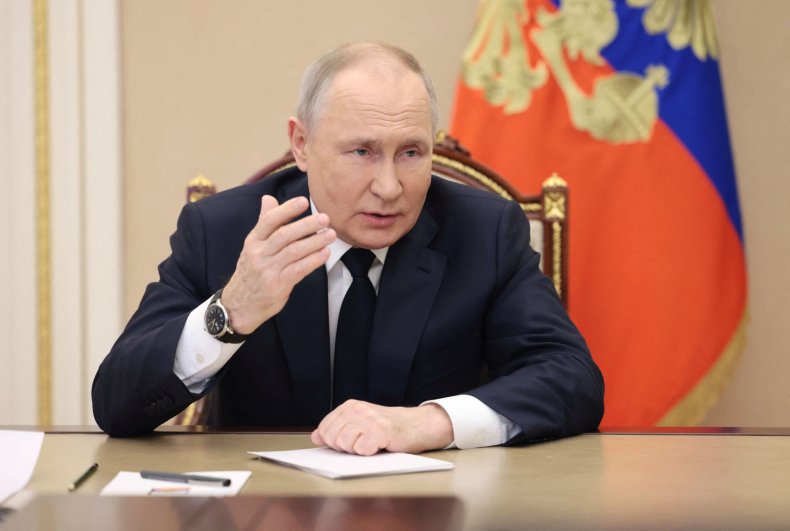 The video has been viewed more than 500,000 times since being posted on Thursday by BBC journalist Francis Scarr.
Scarr admitted his surprise at Shakhnazarov's comments in the caption. He wrote: "I haven't seen anything like this on Russian state TV since Ukraine's counter-offensives last year.
"Karen Shakhnazarov says Russia needs to recognise the fact that it might lose and that anyone who thinks the West is about to fall apart is deluding themselves"
Speaking on Russian state TV, Shakhnazarov said: "It really is a situation [in] which [we] may have the most serious consequences for us in the event of us losing.
"And we need to admit that we could lose. I don't agree with those who say, 'Don't say that! We'll win.'
"I don't know about that. I don't know. We need to admit that we could lose. If you don't you're not looking for different possible outcomes. If you believe that things will just happen by themselves—no, that's not right.
"It's weakness! It's not strength, it's weakness. You have to be able to look the truth in the eyes. You have to be able to at your strengths and weaknesses and see the situation."
Shakhnazarov went to argue against the Russian rhetoric and said the West and Zelensky should be taken seriously.
"We underestimated the West's unity. We've constantly been saying that the West is on the point of falling apart, that there are demonstrations in Berlin or whatever. But it won't happen.
"Nothing is going to fall apart. When the West senses that it can win, it will try to win."
He added: "We need to treat Ukraine and Zelensky seriously. He's dangerous. He's not stupid. He's energetic. He's playing a large role in this story He's not just a
puppet.
"We're deceiving ourselves when we say that and somehow we need to draw some conclusions from this."
Newsweek has contacted Russian Ministry of Foreign Affairs for comment.