Ukrainians Celebrate in the Streets After Russian Retreat From Kherson
People have taken to the streets of Kherson to celebrate Russia's withdrawal from the southern Ukrainian city in the latest setback for Vladimir Putin's invasion.
Jubilant scenes of celebrating Ukrainians have been shared on social media following the retreat, which marks a significant point in the war.
Ukrainian journalist Olga Tokariuk tweeted how there were "amazing, moving, historic scenes" in the city as thousands flock to the streets to celebrate its liberation by Ukraine."
She noted how flags which previously could have got locals executed were now being unfurled with pride because people "never gave up their Ukrainian spirit."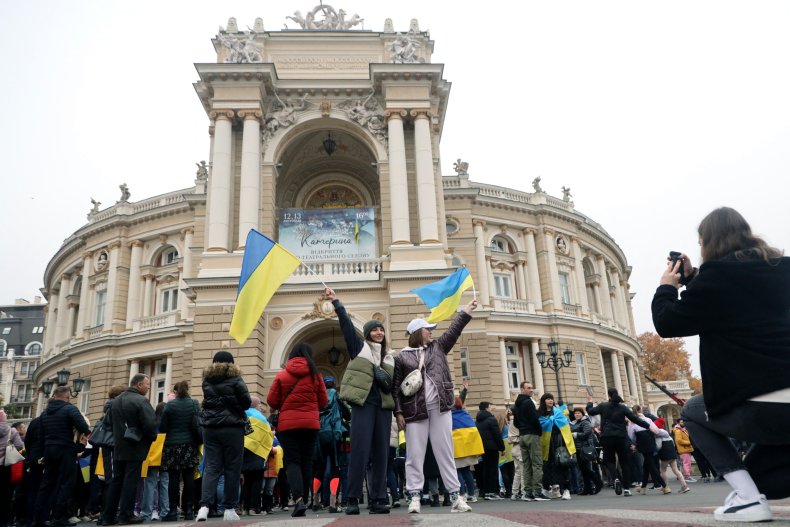 Ukrainian journalist Iryna Matviyishyn shared a video of reporters being greeted in the city tweeting: "Can you imagine life of these people under Russia, if Ukraine gave up on its occupied territories, as some in the West wish?"
"Freedom is worth all the effort," she added.
Kateryna Malofieieva tweeted pictures from the city with the message, "liberated #Kherson now. I can't wait to walk these streets."
Earlier, Ukraine's first lady Olena Zelenska tweeted that images of people on the streets of Kherson meeting their defenders with blue and yellow flags "bring tears to the eyes of every Ukrainian today."
"Ours are at home. Kherson is free. Soon the whole (of Ukraine) will be free."
The former head of Ukraine's National Security Council, Oleksandr Danylyuk, told the BBC that the recapture of Kherson is "almost like a national holiday" although "we understand the war is not over."
Danylyuk told the outlet that he believed the Russians will "go into deep defense" on the east bank of the Dnipro River and that the coming months will be more difficult.
Ukraine's foreign minister Dmytro Kuleba, who met with U.S. Secretary of State Antony Blinken on the sidelines of the ASEAN summit in Cambodia, said Kyiv was grateful for American support.
"Our victory will be our joint victory—a victory of all peace-loving nations across the world," he tweeted.
Roman Holovnya, an adviser to Kherson's mayor told the Associated Press that aid and supplies had started to arrive in Kherson. However, he described the situation there as "a humanitarian catastrophe" and that residents lacked water, medicine and food.
Meanwhile, Alexander Fomin, who is one of the Russian-imposed administration in the region, said Henichesk has been declared the temporary administrative capital of the oblast.
A port city on the sea of Azov, Henichesk has been occupied since 27 February. It is very close to the border with the Crimea region.