Ukraine's President Volodymyr Zelensky namechecked a Russian film in condemning the actions of Vladimir Putin's forces, as he issued a warning that they would be sent to invade other countries.
In a video address drawing on the imagery of Easter, whose Orthodox variant is celebrated this weekend, Zelensky started by saying "we believe in the victory of life over death" and that "we hope for a resurrection."
He referred to comments by Russia's acting commander of the central military district, that Moscow planned to establish control over the south of Ukraine and reach the Moldova border.
Rustam Minnekayev had said on Friday that control over southern Ukraine "is another exit into Transnistria," the Moscow-aligned breakaway region unrecognized internationally and considered part of Moldova.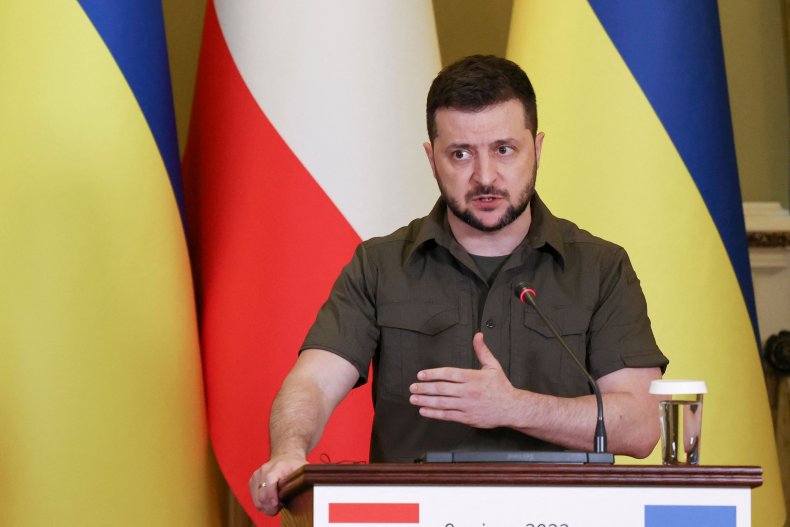 It was the first indication by a high-ranking official about the Russian military's goals to occupy territory before an anticipated "battle for Donbas" in Ukraine's east.
Zelensky said the statement "this only confirms what I have said many times—the Russian invasion of Ukraine was intended only as a beginning, then they want to capture other countries."
"Allegedly there, in Moldova, the rights of Russian-speakers are violated," Zelensky said referring to Minnekayev's comments which chime with one reason Putin gave for his invasion of Ukraine.
"The territory in which Russia should take care of the rights of Russian-speakers is Russia itself," Zelensky said, according to a transcript on his presidential website, "where there is no freedom of speech" and "where poverty thrives and ... human life is worthless."
The Ukrainian president said Russian troops had stolen "something that resembles a normal life" from Ukrainians.
He also referred to a more literal definition of theft as Russian soldiers are accused of looting properties, stealing household goods, such as washing machines and toilets.
"You know they used to talk about their biggest dream, to see Paris and die," Zelensky said, referring to the title of a 1992 Russian film set during Soviet times, "their behavior is now just shocking, because their dream now is to steal a toilet and die."
He said Ukrainian forces are deterring Russian attacks in the east and south of the country "where the fate of this war and the future of our state is being decided."
Also, on a day when the U.K offered to send tanks to Poland so Warsaw could gift their Soviet-era ones to Ukraine, Zelensky said he was "grateful to our British friends" after the U.K announced it would return a diplomatic mission to Kyiv.
"This shows that we are not the only ones who believe in the victory of life over death."
Newsweek has contacted Russia's defense ministry for comment.