Moscow Accuses U.S. Of Blocking Russian Wrestlers' Visas for World Cup
Already in a diplomatic tussle with the west, Russia has accused the United States of obstructing its wrestlers from competing in a key international competition.
Moscow said the U.S. embassy in Moscow is delaying visas for Russian competitors in the Freestyle Wrestling World Cup, which takes place in Iowa in April.
It issued a direct rebuke to the U.S., whose explanation is that it lacked consular staff due to the wave of diplomatic expulsions after the nerve agent attack on Sergei Skripal. In a statement on its website, the Russian foreign ministry said that the delays are a pointed attempt at eliminating competition.
"We regard the U.S. actions as another obvious example of obstructing the participation of Russian athletes in international competitions," the statement read. "The non-issuance of visas for our athletes is a gross violation by the U.S. of its obligations as host nation of international competitions."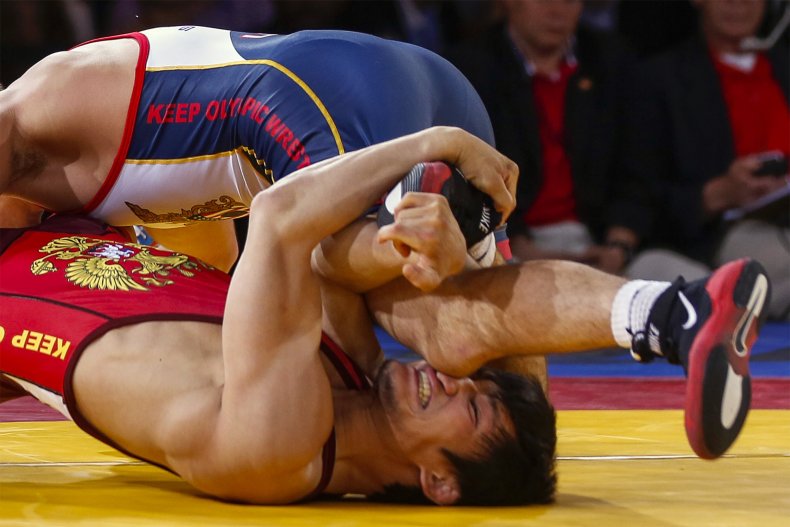 The Foreign Ministry called the actions "direct and open discrimination."
On March 26, the U.S. said it would expel 60 Russian diplomats as a reprisal for the poisoning of former spy Skripal and his daughter in Salisbury, England. Some 23 countries have expelled more than 130 Russian diplomats over the attack.
Russia has denied any involvement in the poisoning and has called on the British government to provide proof. Reports stated that Yulia Skripal, 33, was making a recovery from the Novichok nerve agent attack.
Salisbury NHS Trust said that she was "improving rapidly and is no longer in a critical condition. Her condition is now stable." Her father is still in a critical condition.
The expulsion of Russian diplomatic staff is not the only retaliation by the U.K. On Wednesday, Home Secretary Amber Rudd ordered an investigation into British visas granted to wealthy Russians.
While not yet stating that those Russians could be stripped of their visas, Rudd ordered the review into the investor visas, given to those who stake more than £2 million in the country "to look if any action needs to be taken."